What is a Consequential Loss?
A consequential loss is a type of loss that comes about when circumstances beyond the control of the business owner make it impossible to use company equipment or company property to conduct the normal operations of that business. Typically, losses of this type are considered indirect, in that they may come about due to the occurrence of other events that resulted in some type of damage and indirectly prevented the owner from pursuing his or her normal course of business. While most types of direct damage are covered in various types of business and property insurance, indirect or consequential loss is typically only covered under specialized policies such as business interruption insurance.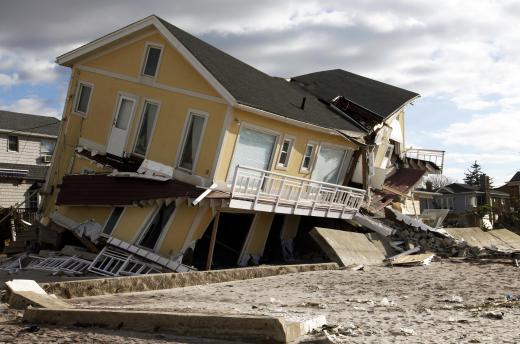 A number of situations can lead to consequential loss. One common example would be a power outage that made it impossible for a retail store to remain open during its usual hours of operation. An indirect impact of that outage is that the store experiences a loss of revenue due to the necessity of closing until the power supply is restored and the store can open once again.
Another situation in which consequential loss may develop is in the case of a breach of contract. Should a vendor fail to deliver goods or services according to the provisions of the contractual agreement that exists between the vendor and the client, this may in turn affect the ability of that client to adequately service his or her customers. This indirectly leads to a loss of revenue that is likely to continue until the vendor does deliver the products promised, or the client obtains similar products from a new vendor.
There are also instances where some type of direct damage occurs that in turn triggers some type of consequential loss. A natural disaster such as a flood or fire would create a great deal of property damage. This direct damage would be covered under flood or fire insurance, allowing the business to repair the interior and exterior of the damaged building or buildings. The disaster insurance would not extend to compensating the business owner for the revenue lost while those repairs were made. In order to cover the consequential damage that resulted from the temporary closure of the business operation, business interruption insurance would allow the owner to file a claim for the approximate amount of revenue that would have been generated if the disaster had never taken place.
While insurance to cover incidences of consequential loss can be somewhat expensive, the coverage can provide a great deal of comfort to business owners. By replacing income lost as a result of some event outside the control of the business, the company is better positioned to overcome the adverse conditions and move forward. Many businesses find that even if the business interruption coverage is only used once every couple of decades, that one instance more than offsets the cost of the premiums paid over the years.


By: corepics

While insurance to cover incidences of consequential loss can be somewhat expensive, the coverage can provide a great deal of comfort to business owners.

By: Leonard Zhukovsky

Consequential losses typically indirectly prevents a business from continuing operation.

By: kristo74

A wildfire would be considered a consequential loss to a farmer.