What is a Colposcopy Biopsy? (with pictures)
A colposcopy biopsy is a diagnostic procedure in which a doctor removes tissue samples from the cervix in order to examine them. During this process, the doctor uses a special magnifying tool called a colposcope. Using this, the doctor is able to visually examine the cervix to identify possibly abnormal tissue. A colposcopy biopsy is an important tool in the detection and prevention of cervical cancer.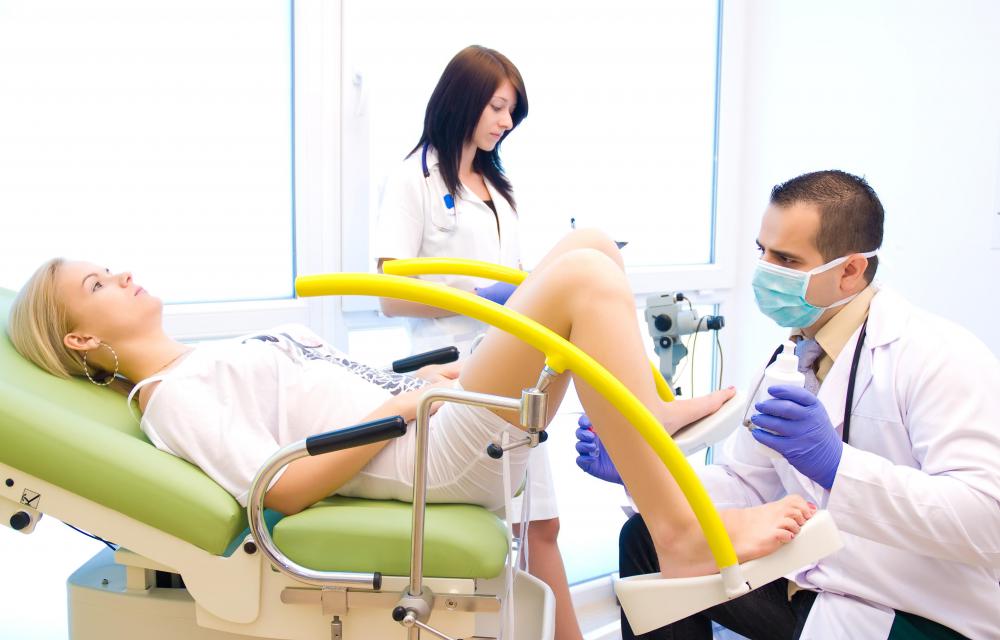 A gynecologist might suggest a colposcopy biopsy if a woman has abnormal Pap test results. An abnormal Pap test might be the result of an infection, which can lead to cervical cancer, or it might be caused by natural changes in the cervical cells. During a colposcopy, the doctor can determine if the cell changes are minor or if the tissues are abnormal enough to require a biopsy. A colposcopy might also be used to examine sores or warts on the vagina or cervix.
For a colposcopy, a woman is in the same position as during a routine pelvic exam: she is reclined on the examination table with her feet in stirrups. The doctor inserts a speculum into the vagina to open the vaginal canal, then applies a solution of acetic acid to the cervix. Acetic acid causes abnormal cells to turn white. The doctor might also use an iodine-based solution to highlight abnormal tissue.
If the doctor does identify abnormal cells, he or she will remove small samples of the tissue. Most colposcopy biopsies do not require anesthesia, but some doctors might choose to use it if many samples must be taken. The woman typically feels some pinching or cramping during the procedure.
After a colposcopy biopsy, it might take several weeks for the doctor to report the results. Depending upon the findings of the biopsy, the doctor might recommend more frequent Pap tests to track cervical cell changes, additional testing or treatment. In some cases, the doctor might want to remove the abnormal parts of the cervix in order to prevent further problems. The doctor might recommend a more extensive biopsy if the colposcopy biopsy does not indicate why a Pap test result was abnormal.
There are minimal risks from a colposcopy biopsy. Sometimes a woman might experience bleeding immediately afterward. There also is the possibility of cramping, discharge and bleeding for several days following the procedure. In rare cases, biopsy sites might become infected and require treatment. If a woman experiences very heavy bleeding or bleeding that lasts several weeks, she should contact her doctor.
Tissue from a woman's cervix is removed in a colposcopy biopsy.

A woman with an abnormal pap smear may need to get a colposcopy biopsy.