What Is a Coenzyme Q10 Cream?
A coenzyme Q10 cream is a skincare cream that contains the ingredient ubiquinone, also known as coenzyme Q10. It is designed to promote healthy skin. This cream is used topically to reduce the appearance of wrinkles, increase skin elasticity, protect against sun damage and reduce the appearance of fine lines. Coenzyme Q10 is produced naturally by the body, but levels decline with age. Clinical data suggests that replenishing coenzyme Q10 levels with coenzyme Q10 cream might improve skin health.
Ubiquinone is a fat-soluble, vitamin-like nutrient that plays an important role in the way that the body produces energy. This substance is found in almost every cell in the human body. It acts as an antioxidant, neutralizing substances known as free radicals, which can potentially damage cells and DNA. Free-radical damage is associated with an age-related skin decline. Coenzyme Q10 cream might help reduce skin degeneration by reducing the harmful effects that free radicals have on skin.
Years of sun exposure can accelerate wrinkle formation and age spots. Coenzyme Q10 cream might help protect against the accelerating aging effects caused by sun exposure. The sun emits ultraviolet rays, which are an invisible form of radiation. Ultraviolet rays can penetrate the skin and deplete coenzyme Q10 levels. Over time, reduced coenzyme Q10 levels contribute to the appearance of aging skin. The cream might help protect the skin by boosting coenzyme Q10 levels that have been depleted by sun exposure.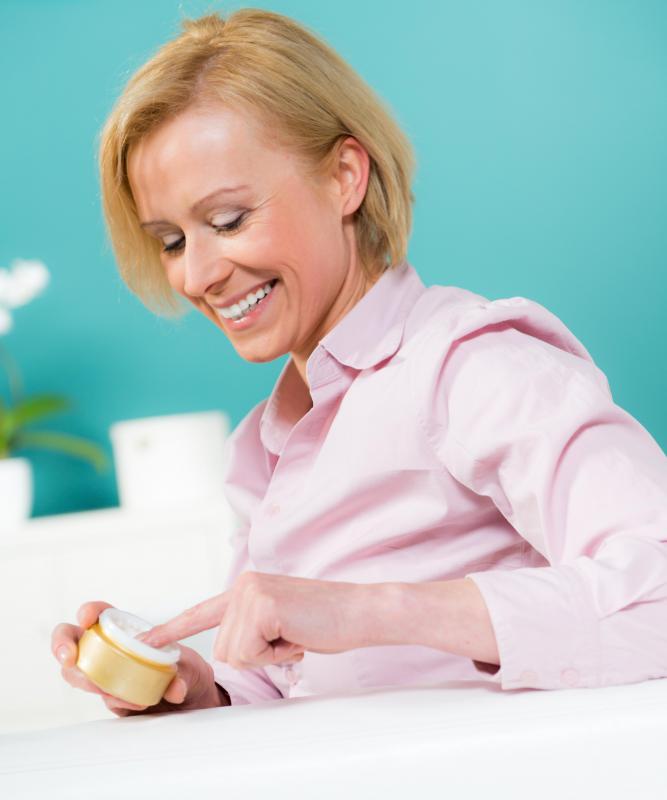 This cream also might help to stimulate collagen production. Collagen is a fibrous protein substance, and the skin and other connective tissues are made out of it. It is the most abundant protein in the human body. Collagen molecules form a triple helix structure, and each chain contains more than 1,000 amino acids, which are building blocks of protein that help the body build and maintain itself.
The body needs collagen for skin production. Optimal collagen levels are needed for healthy skin. Reduced collagen levels contribute to the appearance of aging skin. Collagen promotes skin elasticity, softness and a smooth appearance. By stimulating collagen production, coenzyme Q10 cream might help promote healthy, youthful-looking skin.
Evidence suggests that the hydrating effects of coenzyme Q10 cream might contribute to the appearance of youthful skin and reduce the appearance of wrinkles. Skin hydration plays an important role in skin health. As skin ages, moisture levels decline, leaving a dry, cracked appearance. This cream helps retain moisture in the outermost layer of the skin, which creates a soft, elastic appearance.