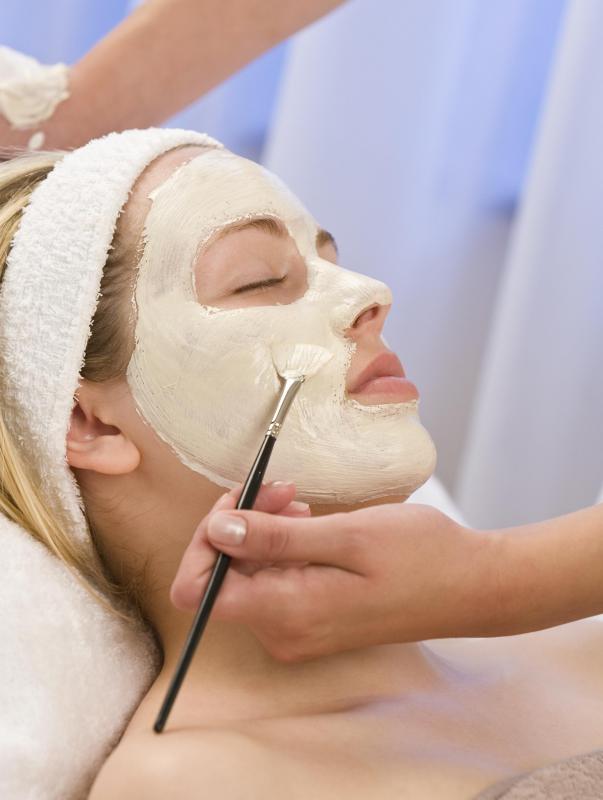 A clay masque is a beauty product that is used to cleanse and purify the skin. There are some clay masques that are intended for use on the entire body while others are intended for use only on the face. It is important to note that there is no difference between a clay masque and a clay mask. These are simply two spellings for exactly the same thing.
There are a number of kinds of clay that are used in these products. The most common kinds are French green clay, bentonite clay, and kaolin clay. Each type of clay is used for specific beauty purposes. Kaolin clay, for example, is often used in deep-cleansing masques. Bentonite clay is popular in masques that target acne and blemishes. Clay masks are also often used to help firm the skin and remove dead skin cells.
There are a number of skin care companies that include a clay masque or two in their product lines. Depending on the quality of the ingredients and the status of the skin care brand, the cost of these products can vary widely. While it is possible to spend a small fortune on a clay masque from a high-end skin care company, it is also possible to spend under $10 US Dollars (USD) on one sold at drugstores or pharmacies.
There are many spas that offer facials that include clay masques as part of the treatment. While enjoying a facial at a spa can be a very relaxing and enjoyable experience, it is quite easy to apply a clay masque right at home. Most skin care companies include detailed instructions about how to apply their products right on the packaging. However, most masques are used in the same manner. Simply apply the product to the skin in an even layer, making sure not to apply so much that it begins to drip, and allow it to remain on the skin for ten to fifteen minutes before removing with warm water.
It is common for masques made with clay to dry and become hard in the ten to fifteen minutes before they are to be washed from the skin. As the clay dries, impurities and excess oil are drawn out of the pores and dead skin cells are pulled away. For people with very oily skin, it is often advised to wash the skin with warm water and a cleanser before applying the masque.
Deep cleansing masks can be used to remove excess oil and pollutants from the facial pores.

Bentonite clay may be used to treat acne.