What Is a Cholinergic Drug?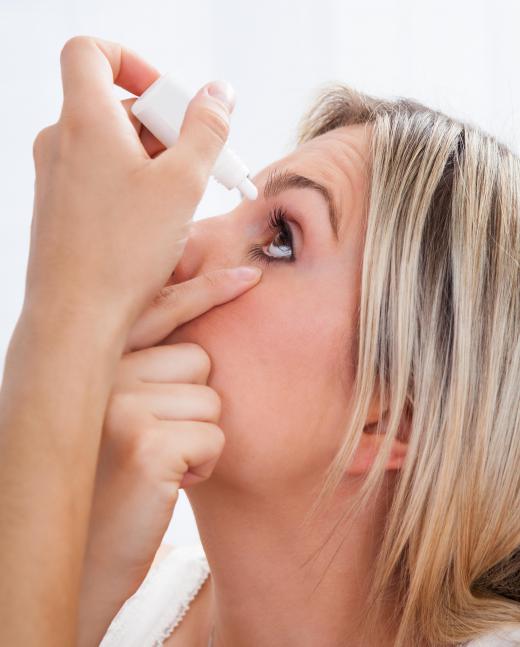 A cholinergic drug is an acetylcholine agonist that stimulates the parasympathetic nervous system and mimics a hormone found naturally in the body. This hormone controls digestion and muscle strength. Certain cholinergic drug formulas allow the stomach to produce more acid, while also producing more tears and saliva. They are also used to treat muscle weakness, glaucoma, and Alzheimer's disease.
Acetylcholine hormones aid in the release of enzymes that permit proper digestion of food and normal functioning of smooth muscles. A patient who experiences dysfunction from disease commonly uses a cholinergic drug, which blocks the production of enzymes or allows them to last longer, depending on dosage. This drug is routinely used to treat myasthenia gravis, a condition marked by weak muscles.
Myasthenia gravis represents a progressive disease caused by an autoimmune disorder. The body attacks acetylcholine receptors in the parasympathetic nervous system, blocking them from regulating muscle strength. Doctors typically prescribe a cholinergic drug to increase muscle tone and permit a patient to build stronger muscles.
Other forms of the medication treat glaucoma by reducing pressure in the eye. Eye drops of this cholinergic drug are generally used by glaucoma patients. If pressure in the eye persists, it might harm optic nerves and lead to loss of vision.
A cholinergic drug typically helps stimulate bowel and bladder action in patients after surgery. It prevents the retention of urine and counteracts other drugs used as muscle relaxants during surgical procedures. Its use is considered quite common during surgery.
One theory promotes giving Alzheimer's patients a cholinergic drug to stimulate neurons in the brain. Studies show the amount of acetylcholine in the body decreases in patients with Alzheimer's disease. When enzyme production decreases, the brain does not receive messages necessary to recall information. Some doctors believe treating these patients with this drug improves cognition.
This medication is not advised for people with a blockage in their digestive or urinary tract caused by inflammation or tumor. Patients with a slow heartbeat might experience problems while taking a cholinergic agent because the medication slows the heart rate. It also is not recommended for patients with thyroid disorders, epilepsy, asthma, or gastric ulcers.
Side effects of the drug might include muscle cramps and pain. Some patients find they produce more saliva and stomach acid while using these drugs. Others suffer trouble breathing, headache, and sleepiness. Nausea and vomiting represent other common side effects of these medications.


By: apops

Cholinergic drugs in the form of eye drops may be used to treat glaucoma.

By: Ljupco Smokovski

Side effects of cholinergic drugs may include increased stomach acid.

By: Maridav

Muscle cramps and pain can be a side effect cholinergic drugs.

By: CLIPAREA.com

Cholinergic drugs are not recommended for patients with thyroid disorders.