What Is a Chicken Noodle Casserole?
Chicken noodle casserole is a baked dish that consists of pulled cooked chicken, a cream sauce, egg noodles and various seasonings or vegetables. It has a creamy texture combined with the slight firmness of the egg noodles and chicken. Chicken noodle casserole is a hearty, easy-to-make comfort food for many people.
There are various methods and recipes for making chicken noodle casserole. A stove-top version uses many of the same ingredients as a standard baked dish but is quicker to make. Additionally, an older baked version made from scratch is also widely found, especially in the southern United States.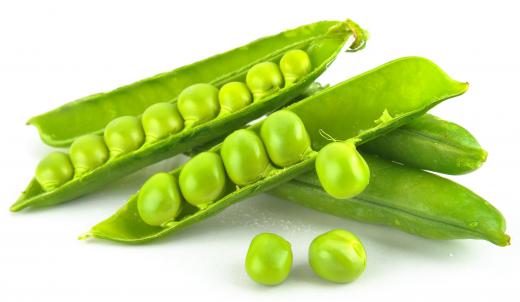 The quicker versions of these chicken noodle casseroles are usually made with condensed cream of chicken soup or mushroom soup, cooked egg noodles, cooked chicken, milk and grated Parmesan cheese. Salt, pepper and parsley can be added to taste. Add-ins such as peas, celery, onions or mushrooms also are included in many versions of chicken noodle casserole. The mixture is either heated on the stove top on medium heat until warm or poured into a casserole dish and baked in the oven, usually at 350° Fahrenheit (180° Celsius) for about 20 minutes.
The old-fashioned versions of this hot dish require many of the same ingredients, including egg noodles, cooked chicken, Parmesan cheese, seasonings and add-ins. The recipe varies when it comes to the cream sauce. Instead of using a canned soup, the sauce is usually made by combining chicken broth with milk and a roux made of butter and flour. After the sauce is ready, it is mixed with the other ingredients and placed in a casserole dish to bake in the oven.
A crunchy topping usually is placed on top of the baked casserole dish before being placed in the oven. This topping might be Parmesan cheese or bread crumbs. After baking, the chicken noodle casserole is removed from the oven and allowed to cool for several minutes. Sometimes the chicken noodle casserole is served on a bed of mashed potatoes, white rice or bread stuffing. These dishes also can be served as sides with the casserole.
AS FEATURED ON:
AS FEATURED ON:

By: sevenk

Green peas are a common addition to chicken noodle casseroles.