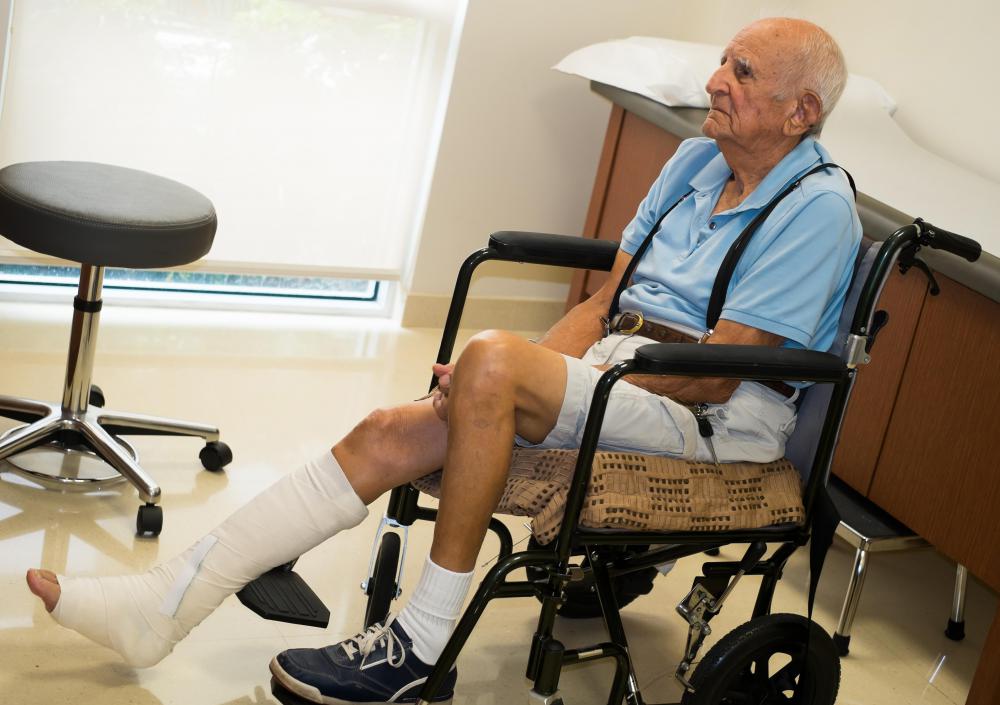 A casting stand is a positioning device used to stabilize a patient while applying a cast to a fracture. It allows the doctor to apply the cast in a single procedure, without requiring the patient to move or shift position, and keeps the patient as comfortable as possible. The stand allows the doctor to carefully adjust the position and lock it in place, and may include a tray for catching drips as the cast is applied. Casting stands are available from medical device manufacturers and professional organizations that promote orthopedic medicine.
When physicians prepare to set up a cast, they want to make sure the limb is well positioned. This includes not only holding the fracture in place, but also supporting the joints at the right angle. Patients can experience pain and discomfort if their joints are awkwardly positioned, and this can also make the patient unstable or could cause injury. The casting stand allows a doctor to set up the patient's arm or leg and make adjustments to get the right angle and height for healing while also making it comfortable for the doctor to apply the cast.
Stabilizing the limb during cast application also reduces the risk that the patient may move, which could cause wrinkles and problems in the cast material that might compromise its integrity. Before the doctor starts, the patient may be asked about comfort levels and positioning to make sure it will be possible to hold still not just for the procedure, but for the drying time to make sure the material is cured before the patient starts moving again. The casting stand is designed to support the weight of the limb and growing wrapping while the doctor applies it and waits for it to harden; at this point, the limb of the stand can be pulled away to free the patient.
Casting stands can be improvised from adjustable equipment like office chairs, if necessary, although purpose-built versions tend to offer better performance. At the very least, the doctor needs to be able to adjust the height and angle of the casting stand to get a patient's limb into the right position. It's also important that the stand be made from materials which can be easily wiped down and sterilized between patients. Space under the casting stand for a bucket to catch drips is also recommended, as this can be a messy process.
By: Fotoluminate LLC

In most cases, casting and rest is enough to allow a bone to heal on its own without surgery.

By: Zoe

A casting stand may be used to stabilize a patient while applying a cast to a fracture.

By: maska82

Casts are typically made of fiberglass.