What is a Car Salesperson?
A car salesperson is one who makes his or her living selling new or used vehicles. A car salesperson may work at an auto dealership, or he may own his own car lot. Typically, car salespeople will earn a commission for every car he or she sells; for this reason, it is in the salesperson's best interest to cultivate honest, respectful relationships with customers. Salespeople generally report directly to managers at a dealership.
When working at a dealership, a car salesperson may be responsible for selling only new, only used, or a combination of cars. He or she will likely be briefed at the beginning of the week or month as to the new cars that have arrived, as well as on any special deals that the company is offering, such as a low percentage rate for financing. The salesperson may be assigned sales goals, or he may be responsible for setting his own.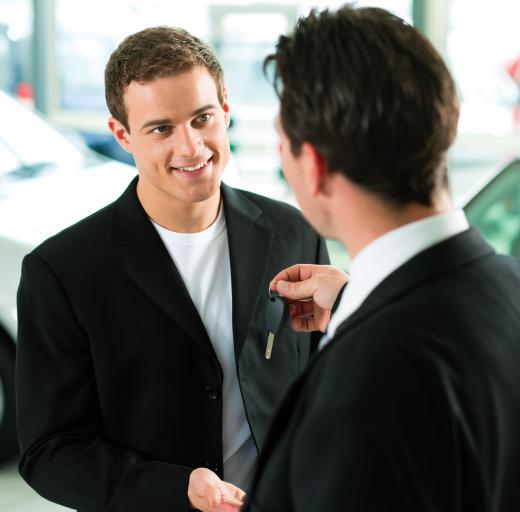 On a daily basis, a car salesperson will greet new customers when they come in to the business. He or she will ask questions of the customers to determine what type of vehicle they are looking for, how much they want to spend, and if they have any special requests or needs regarding features and accessories. The salesperson will then recommend a vehicle, or a number of vehicles, based on the customer's desires and his knowledge of the inventory.
Next, the car salesperson will answer any questions the customer may have, and demonstrate any included features on the car. He may accompany the customer on a test drive with the vehicle, where the salesperson may share any additional relevant information, and determine if the customer would like to purchase the vehicle. A customer may want to take multiple cars on test drives.
When a customer decides to purchase a vehicle, the car salesperson will then draw up the paperwork, and collect information regarding credit history and financing. The salesperson also needs to know and understand the state's laws regarding title, insurance, and registration. Once the car has been paid for, or financed, and the dealership has cleaned and serviced the car, the car salesperson will deliver the car to the customers when they come to pick it up.
Once again, the salesperson will demonstrate the features of the car, and answer any final questions. Within a week or two, it is generally a good idea for a salesperson to follow up with the customer to determine if they are satisfied with their purchase. This is more likely to create a happy customer who will recommend the dealership to their friends. Every week or month, the salesperson may assess his sales goals, see where changes need to be made, and continue to attend regular meetings to remain knowledgeable about the business.
AS FEATURED ON:
AS FEATURED ON:

By: Kzenon

Car salesmen should be confident and enjoy talking to customers.

By: pressmaster

A car salesperson will provide information about a vehicle, and also allow customers to take test drives.

By: stocksolutions

A car saleperson must be ready to answer customer concerns about any car on the lot.

By: Deklofenak

Part of being a skilled car salesperson is persuading customers to purchase upgrades and add-ons that they might need.