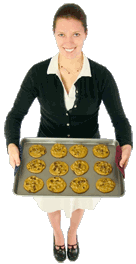 A cake stand is a piece of kitchen equipment which is designed for the purpose of decorating and displaying cakes. Cake stands come in a number of forms, from very basic cake stands which are used to support cakes while they are frosted to elaborate versions intended for use at formal events. Many kitchen supply stores carry cake stands, along with accessories like cake toppers, frosting tools, and so forth, and a cake stand is a very useful thing to have around the kitchen.
As you might imagine, a cake stand is designed to lift a cake up above the surface of a table or counter. Most cake stands have a wide, sturdy base connected to a pillar which flares out to a large cake plate. In many cases, a matching lid can be used to cover the cake and the cake plate, protecting the plate from damage. This is extremely useful for cakes which have been frosted with complex, delicate designs which could be easily ruined.
Most bakeries have an assortment of cake stands which are used while frosting and decorating cakes. These cake stands are relatively utilitarian, and many have interchangeable tops so that cakes of various sizes can be placed on the cake stand. Because the cake stand isn't used for display, smearing frosting, sprinkles, and other decorations on the cake stand is not a cause for concern.
A display cake stand, on the other hand, is designed to be ornamental as well as functional, and it may be painted, carved, inlaid, or etched. Decorative cake stands are used to display cakes at bakeries and stores, and at events where cake is served. Many companies also make tiered cake stands, which allow multiple cakes to be displayed at once; cake stands can also be integrated into the design of a wedding cake to separate the layers of the cake.
There aren't too many things to worry about when purchasing a cake stand. If you know that you will be transporting cakes, you may want to look for a cake stand which pairs with a cake carrier, made from a cake plate with a snap-on lid. You can carry the cake in the carrier, and then mount the cake plate on the cake stand at the cake's end destination. A matching cake cover can also be a useful thing to buy when purchasing a cake stand, so that you know you have the right size, and you may want to think about ease of cleaning when looking at cake stands, as cake can get quite messy.


Woman baking cookies