A cactus garden is a garden which contains primarily cacti. Some cactus gardens are entirely landscaped with cacti, while others may include succulents, desert grasses, and other plants which are adapted to the same environments favored by cacti. While many people think of the famous saguaro cactus when they think of cacti, cacti actually come in a variety of shapes and sizes, and a cactus garden can be a very colorful, diverse place.
Many cactus gardens are located in dry or desert environments, although it is possible to maintain a cactus garden in a wide variety of climates. Cacti are very cold-hardy, thanks to the extreme cold of the desert at night, and many of them can cope with wet climates, as long as they are established in well-drained soil. Some cactus gardens skirt the climate issue by being established indoors, with cacti gracing lobbies and other indoor locations.
A cactus is a plant in the family Cactaceae. These plants have a number of adaptations which help them survive in dry environments, including vascular systems which store water and nutrients. Many cacti also produce thorns, along with colorful flowers which appear intermittently, and fruits. Some common examples of cacti beyond the saguaro include prickly pears, organ pipe cacti, barrel cacti, queen of the night, Easter lily cacti, and pincushion cacti, but these examples just begin to scratch the surface of the cactus world.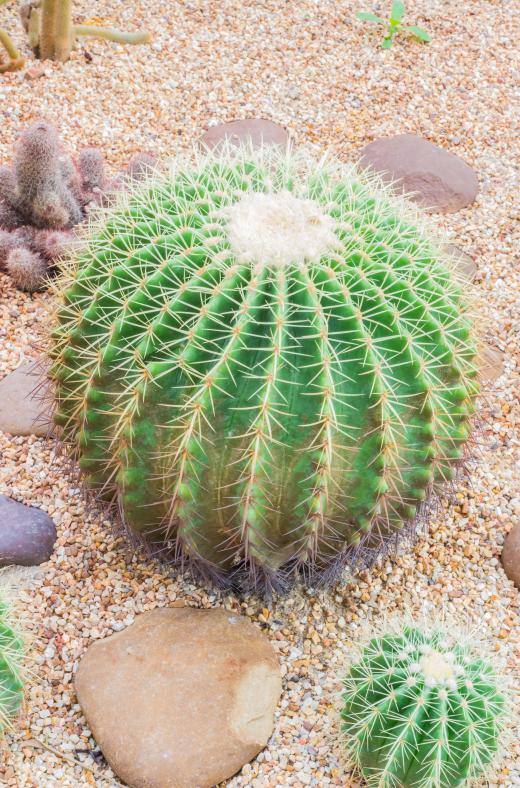 Landscaping in a cactus garden is dependent on the location of the garden. In wet climates, for example, cacti are usually grown in a raised rockery which allows for excellent drainage, as cacti do not like to sit in standing water. Landscapes may be shaped with hills and valleys, with the cacti growing in soil which may be left exposed, or covered in rocks, wood chips, and other materials. Larger cacti tend to be located near the back of the garden with lots of room to grow, with smaller specimens near paths so that they can be easily seen.
While you might think of a cactus garden as a hostile, thorny environment, cactus gardens showcase the diversity of the cacti, with a variety of flowering cacti and plants with a range of shapes and sizes, ranging from cacti which look like long pointing fingers to cacti which resemble plump ottomans. A cactus garden is extremely water-efficient, a definite bonus in dry climates, and it can be used to showcase native species, helping the garden to blend in with the surrounding environment.
AS FEATURED ON:
AS FEATURED ON:

By: Igor Mojzes

Cactus gardens show off the stark beauty of cacti.

By: sombatkhamin

Cactus gardens usually include many different varieties of cacti.

By: N-Photos

Cactus gardens are typically all -- or mostly -- cactus plants.

By: designua

Cactuses have a number of adaptations which help them survive in dry environments, including vascular systems which store water and nutrients.