A business suit is, in its most basic form, a jacket and pants set made from matching material. It's thought to have originated from country wear first worn in England. It should be noted that in the United Kingdom (UK), suit pants are known as trousers. Hats and vests were worn with the earlier styles of suits, while today these aren't typical accessories unless a fashion trend emerges. The business suit was once only a man's garment, but with an increasing number of women entering management professions, the clothing evolved.
Women's business suits may feature a skirt rather than pants. Some women's suits include a jacket, skirt and pants, which can form the basis of different work outfits. Business skirts must never be too short; they may be about knee length. Business women may also wear a suit jacket with a long skirt or over a dress to create different office looks. The proper business suit, though, is always matching top and bottom pieces worn with a classic or dressy blouse.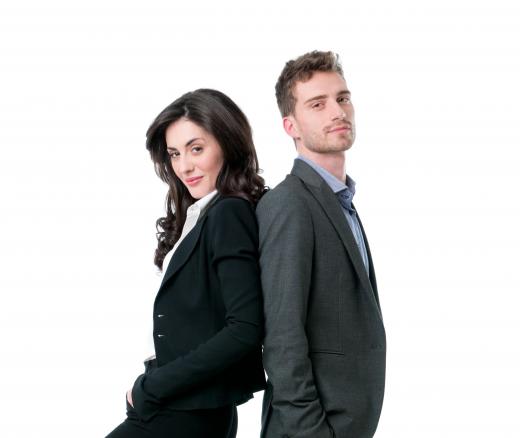 A classic women's blouse is crisp and white; its style is based on a men's dress shirt. Traditionally, dress shirts worn with business suits were solid white. Today, both men's and women's suit shirts are available in many different colors and patterns. Men typically wear a tie at the neck of the dress shirt. Usually these are long, straight ties that may be solid or patterned; bow ties aren't typically worn with a business suit unless they are considered trendy.
Wool is the most popular fabric for a business suit. It can be worn in many climates and seasons except for very warm weather. Silk or cotton are good summer options for business suits. While synthetic fabrics are used for more inexpensive suits, a suit made from polyester, rayon or other non-natural textile isn't as elegant or as breathable on the body as natural materials such as wool, silk and cotton. Business suits should have a smooth drape, or hang, on the body without being either too tight or too loose.
A business suit for men shouldn't be confused with a tuxedo. A tuxedo, or tux, is a formal suit made for special occasions and evening wear. Business suits are considered to be mainly day wear, such as for lunching with clients or attending a shareholder's meeting. While business suits were once commonly custom made by tailors, today these garments are typically sold ready to wear. Tailors may make alterations on purchased suits, such as adjusting trouser length or taking in the waist seams of a suit jacket.


By: Nejron Photo

Men may wear a vest under a business suit's jacket.

By: Cello Armstrong

Business suits are considered to be day wear.

By: Rido

Business suits for women usually have a cut that's noticeably different from those worn by men.

By: Igor Mojzes

Although women may wear a number of different colored blouses, the classic business blouse is crisp and white.

By: studiovespa

Skirt suits should always be worn with pantyhose.

By: RTimages

Business suits were once custom-made by tailors.