What Is a Bubble Bath Mat?
A bubble bath mat is a plastic mat that lies on the floor of a tub and produces bubbles by way of an air hose attached to a motor. Small pinpricks in the mat release air into the water, producing steady streams of bubbles. The bubble bath mat motor usually sits outside of the tub and is generally adjustable. Users often purchase these mats to turn their ordinary bathtubs into hot tub-style massage pools. The pressure from the bubbles is supposed to help soothe aching muscles and help relieve joint pain. While these mats may seem very useful, some users have run into trouble with certain aspects of their construction.
To use a bubble bath mat, consumers should generally press the mat down into the bottom of the tub. Most mats are equipped with suction cups on the bottom that hold it in place. The entire mat may be placed on the floor of the tub, or half of it may be placed against one of the narrow sides of the tub. This usually allows the consumer to enjoy a bubble massage on his or her back. Consumers wishing to do this should line up the top edge of the mat with the water line of the tub. Pinpricks positioned above the water will not produce bubbles, however, they'll just blow air onto the skin.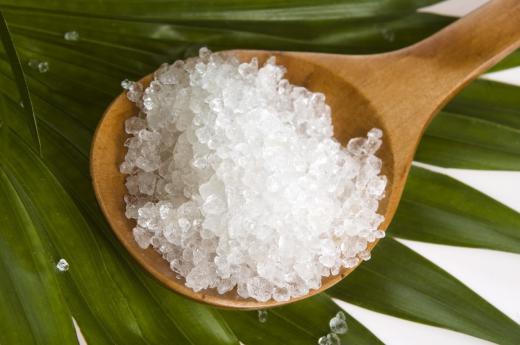 Once the bubble bath mat is secured in the tub, the consumer usually presses a hose into the plastic cuff positioned at one end of the mat. The hose should lock securely into place, connecting the mat to the motor. These motors may be powered either by batteries or an electrical cord. They're also usually egg-shaped and about the size of a bowling ball. Instructions generally warn consumers not to place the motor in the water — it should be placed on the floor outside of the tub for safety.
When the bubble bath mat and motor are correctly positioned, the consumer may fill the tub with warm water. It is not advisable to use soap or bath salts with these mats because the residue from bathing products can clog the bubble holes. Some consumers may also find the noise of the motor annoying or discover that the entire assembly is difficult to maneuver and store. Those who want to use their bubble bath mat on a regular basis should generally store it next to the tub, if possible. It should also be gently rinsed and dried after each use.
AS FEATURED ON:
AS FEATURED ON:

By: joanna wnuk

Bath salts should not be used with bubble bath mats because the salt can clog the bubble holes.

By: www.doglikehorse.com

The heat and bubbles from a bubble bath may help to sooth aching muscles and joint pain.