What Is a Bruschetta Salad?
Normally both quick to prepare and flavorful to eat, a bruschetta salad is a lettuce-based salad which includes a bruschetta topping. An Italian dish, bruschetta is toasted, usually seasoned, bread topped with a mixture of chopped tomatoes, olive oil, and other flavorings. Although a bruschetta salad may use toasted bread slices like actual bruschetta, more often store-bought croutons are used instead. Usually considered a side dish, some versions of bruschetta salad can be served as a main course.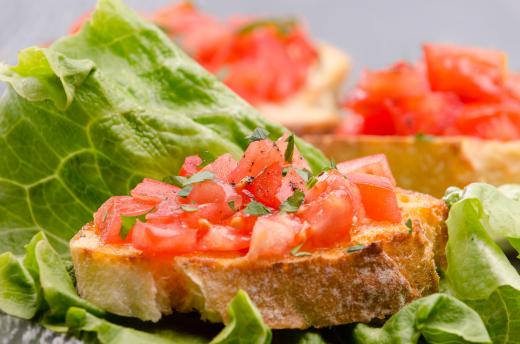 Depending on the version, many bruschetta ingredients can be premade. A flavored oil and vinegar dressing, such as Romano basil or Parmesan balsamic vinaigrette, is normally used, but a homemade vinaigrette can be created as well. Seasoned, store-bought croutons are also a frequent choice. When homemade croutons are made, Italian or French bread is normally used. The bread is often brushed with the dressing before being baked to toast.
Tomatoes are a vital ingredient to the bruschetta mixture and therefore to a bruschetta salad. They are often fresh but are sometimes canned. Canned tomatoes with additional flavorings, such as basil, can be chosen. Other vegetables or fruits, such as cucumbers, onions, and avocados may also be included in the mixture. Additional seasonings, such as basil or capers, are frequently included if the tomatoes or dressing do not already provide them.
Romaine lettuce is most often chosen for the leafy green portion of the dish. Baby spinach or arugula are also options. Occasionally, a version will forgo a leafy vegetable, and instead use fresh herbs, such as basil leaves. In addition to the lettuce, mozzarella or Parmesan cheese are often added to a bruschetta salad as well. A few varieties will add a cold meat, such as pepperoni.
The bruschetta mixture is usually made first when preparing a bruschetta salad. If fresh tomatoes are used, they are chopped, along with any additional fruits or vegetables. Then, they are combined with the dressing and seasonings and tossed. Afterward, the mixture is tossed with the lettuce and croutons, or simply combined with the lettuce and placed on slices of toasted bread or topped with the croutons.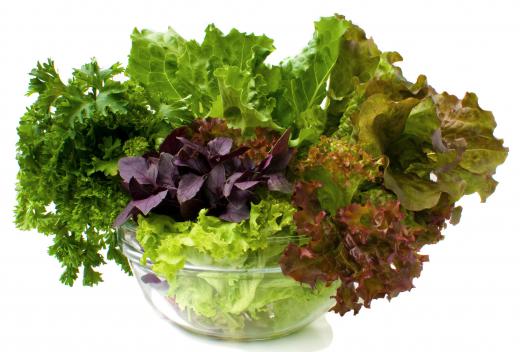 Several versions of bruschetta salad add slices of cooked steak to create a warm-chilled contrast when eating. The steaks are usually grilled and may be seasoned beforehand with only salt and pepper or a more complex spice rub. Once cooked, the steak is thinly sliced and placed on the salad. When steak is used, the meat, lettuce, and bruschetta mixture are normally layered on whole bread slices.


By: Silken Photography

Bruschetta may be served as a dip or a topping.

By: skyfotostock

Bruschetta salad includes a green salad with bread or croutons and bruschetta on top.

Capers can be added to bruschetta salad.

Arugula leaves are often included in bruschetta salad.

Escarole can be included in bruschetta salad.

By: NataliTerr

Salad greens.

By: Viktor

Fresh mozzarella is often included in a bruschetta salad.

By: Elenathewise

Parmesan cheese can be used to flavor a vinaigrette dressing to top a bruschetta salad.

By: Richard Villalon

Avocados are sometimes included in a bruschetta salad.

By: marilyn barbone

Croutons are used to top a bruschetta salad.