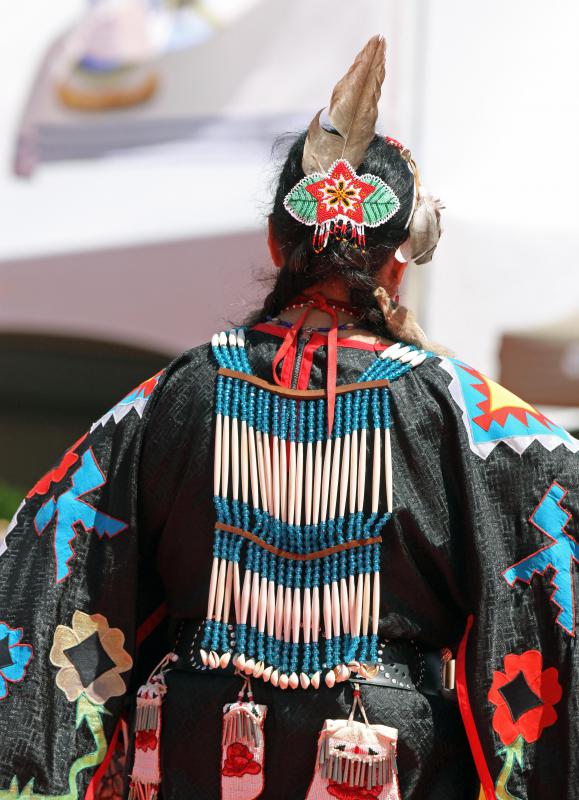 A brick stitch is a conventional method of bead weaving in which the bead pattern resembles a brick wall. Also known as the Comanche stitch, Cheyenne stitch, or bugle stitch, this form of weaving commonly uses bungle beads or seed beads. This technique has been used for centuries for many different types of beading projects. It is is commonly used to create triangular fringed earrings. Although a brick stitch may resemble a horizontal peyote stitch, the peyote stitch is made much differently than the brick stitch.
This technique usually begins by sewing together a line of beads laid side by side in a formation known as a "ladder." When the first layer is complete, subsequent layers will be added one row at a time. The layers are held together by sewing each new layer into the stitches of the previous layer. By sewing the beads together in this fashion, the brick pattern by which the stitch is known is formed. To keep the width even, a bead must be added to the end of each row. Otherwise, subsequent rows will become more narrow.
Brick stitch techniques have been used in beadwork in many places throughout the world, including the Middle East, Africa, and North and South America. In Guatemala, antique brick stitch beadwork using very small beads has been found. Native American groups have used this stitch in artwork, garments, and jewelry. Cross sections of quillwork, an older form of decorative embellishment, and baskets created by Native Americans show a pattern very similar to the brick stitch beading. This may suggest that this style of beadwork evolved from other crafts.
Some Iroquois artifacts include beadwork that is comparable to the brick stitch, using offset rows of beads to create ornaments for wearing around the wrist or in hair bands. This offset stitch could be an earlier form of the brick stitch. Such artifacts may be the earliest known example of the brick stitch. In fact, this form of bead weaving can be traced back to the Victorian era.
The Totadaho Belt, an early example of the offset pattern of this form of stitch, dates back to the late 1750's. This stitch was also found in the bags, garments, cradles, and other items of the Comanche. This type of stitch is referred to in early books as "bungle beading" and is represented in crafts such as bungle earrings.
By: Pascal Huot

FCross sections of quillwork created by Native Americans show a pattern very similar to brick stitch beading.

By: Vyacheslav Plyasenko

Brick stitch designs often use seed beads.