A bra slip is a type of women's underwear which combines the coverage of a full slip with the support of a bra. Usually it is a type of body shaper, often called shapewear, designed to make the waist and hips appear smaller while smoothing bulges. There are also lingerie style bra slips.
There are many types of shapewear bra slips. Some are strapless, with self supporting cups, and others are convertible to strapless, crisscrossed, one-shouldered or halter-top. The length can be mid thigh to below the knee, depending on the style. Almost all shapewear products are made of a seamless stretchy material in black, white, or nude. This material helps to shape and define irregularities in the body.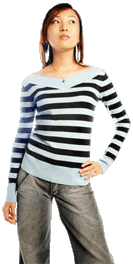 Lingerie bra slips do not typically offer the support of shapewear bra slips and are usually worn for aesthetic purposes only. They come in a variety of styles and colors, instead of just black, white, or nude. They can be made out of many different kinds of material, like silk, satin or chiffon.
Women commonly wear a bra slip under a dress which is too revealing or too tight for normal underwear. Many times a shear dress or a dress made of light or thin fabric will show the lines of a normal bra and panty set. Since the bra slip is one piece, there are no lines to show through the dress.
There are two key differences between a bra slip and a full slip: support and sizing. A traditional full slip is made to go over a bra, so it offers no support of its own. The full slip is normally sized small, medium or large or with a numbered scale, such as a size 10 or a size four. The bra slip is sized like a bra, using numbers for band circumference and letters for cup size, such as 34A or 36C.
A bra slip is one of many types of shapewear, but it is one of only two that covers most of the body. The second type is the bodysuit, which is a one piece unitard-like garment that covers the legs down to the knees and offers the support of a bra. Other kinds of shapewear, like waist cinchers, buttocks-enhancing panties, bustiers, and girdles only target specific areas of the body.
AS FEATURED ON:
AS FEATURED ON:

Woman with hand on her hip