What is a Balance Trainer?
A balance trainer, or BOSU® ball, is a piece of fitness equipment that looks like a giant ball that's been cut in half and attached to a flat base. The balance trainer is an apt term for the device because it's meant to improve the user's balance. In addition, many fitness experts believe the device can help build up the user's core, the key muscles found in the back and abdomen.
The acronym BOSU® stands for "Both Sides Up," meaning that exercisers can use the device with either the half-ball or board side facing up. Some trainers like to say that BOSU® means "Both Sides Utilized," a statement that is accurate and employs a much more elaborate word. Both sides of the balance trainer place demands on the user's core muscles.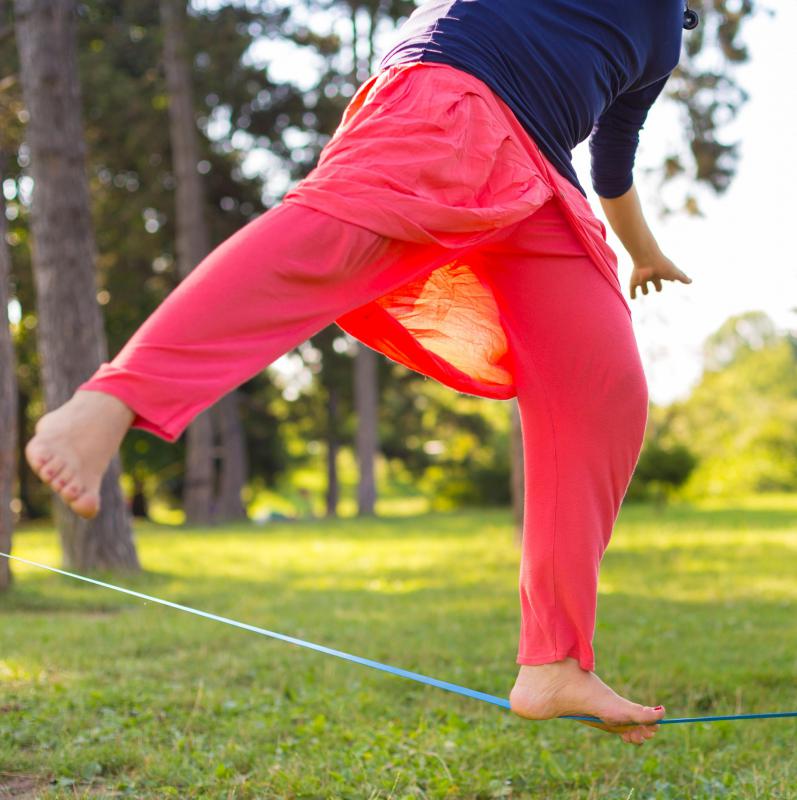 One simple exercise to improve balance has the user stand on the dome-shaped side of the balance trainer with his or her eyes closed, then lift one leg. Beginners can try to hold the position for 10 seconds, stopping immediately if they feel they're in danger of falling. As they gain better balance, users likely will be able to hold the position for as long as one minute or more.
Exercisers can use the balance trainer in a number of ways. One challenging exercise is to jump rope while trying to land both feet on the ball. The balance trainer also can be combined with light weight training programs using dumbbells, the advantage being that the exerciser can work his or her core muscles while gaining the added strength that comes from lifting weights. Trainers and exercisers have found the balance trainer useful in Pilates, cardio, toning and other fitness regimens.
The device was invented in 1999 by David Weck, a former college athlete turned fitness professional. Weck says he suffered from chronic lower back pain after a motorcycle accident. He found that traditional forms of physical therapy didn't help, so he tried standing on a stability ball to improve his balance. Naturally, he fell. Weck decided to cut the ball in half, allowing it to lay flat and reducing the distance to the hard floor in case he took another tumble.
Weck has invented other fitness devices, but it is the balance trainer that has become the most common in gyms. It usually is more expensive than a stability ball, which is a consideration for anyone looking to buy home exercise equipment. Its versatility and relative safety make it a desirable tool for many people who are looking to build strength and balance.