What is a Basket Planter?
A basket planter is usually a woven basket plant container, which is often used as a hanging planter. However, sometimes the term basket planter can refer to various ceramic pots with decorations on them that make them look like woven baskets. The former is more common, though gardeners can find the latter at numerous gardening and home supply or hardware stores.
There are plenty of basket planter types to purchase and they have several advantages. For one, baskets with large slits can have plants not only on the top of the basket, but also through the sides of the basket. This can increase the functionality of a planter and is a great way to showcase trailing or vine plants in a hanging container.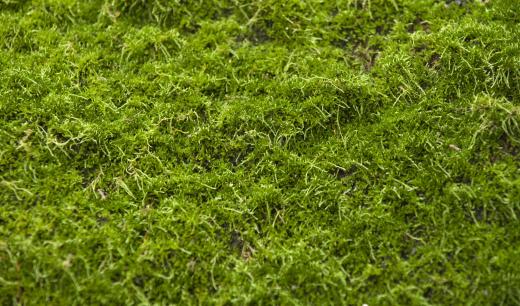 Most basket planters come with at least one plastic lining, which is helpful. The slits in the basket would otherwise be impractical because dirt and water would be likely to leak from the basket each time plants are watered. In a pinch, people can use a cut to fit part of a trash or grocery bag to provide this lining. In fact, it can be great to create basket liners with any favorite baskets. Old Easter baskets, for instance, can easily be converted to a basket planter, and lined with either plastic or thick moss.
Production of basket planters often takes place in developing countries. While these woven baskets can be beautiful, they may come at the additional cost of extremely poor working conditions for laborers or child labor. To avoid this, look for those baskets that are produced by fair trade methods.
Though many people think of the basket planter as a hanging planter only, this is not always the case. There are baskets that can sit on stands, on various tables in the home, or directly on the ground. Those exposed to the elements constantly can break down after a time and may need replacement. Like most gardening items made of natural materials, basket planters are lovely but impermanent objects that will wear out eventually. There are occasionally basket planters made from plastic or other durable materials, but many people prefer natural materials instead and treasure their baskets for as long as they last.
The numerous sizes of baskets mean that planting in a basket planter can be extremely variable. Mid-size baskets can be terrific for creating colorful bowls with various seasonal annual flowers like pansies, petunias or impatiens. Houseplants are often ideal in baskets and can be replanted in a larger basket planter as they grow. It isn't always necessary to pot directly in a basket planter; instead, durable pots can be placed inside baskets for greater decoration.
AS FEATURED ON:
AS FEATURED ON:

By: k_kron

Basket planters are often lined with thick moss to prevent the dirt from leaking out.

By: svetamart

Old Easter baskets can easily be converted to a basket planter.