A basal cell is a skin cell at the base of the epidermis, the uppermost layer of the skin. These cells, along with most of the cells in the skin, are among a type of cells known as keratinocytes. When people develop non-melanoma skin cancers, they usually involve basal cells and are known as basal cell carcinomas. Attentive skin care can help people identify malignancies early and get the best treatment.
These cells are small and round and may exist in a layer only one cell thick in some parts of the body. They are undifferentiated, and their primary function is to proliferate, producing cells that will differentiate and rise up into different layers of the epidermis. The skin constantly sloughs its upper layer, making new cells a necessity to protect the inside of the body. These cells provide fresh material to replace the dying cells as they flake away.
This layer of cells is also known as the stratum germinativum or basal layer. It is one of a series of layers, allowing the skin to protect the body while also providing porosity so the skin can breathe. The breathability of the skin is both a strength and weakness. At the same time the skin can express toxins and waste products through the sweat, it can also absorb compounds in the environment, ranging from topical medications to toxins people may accidentally splash on their skin.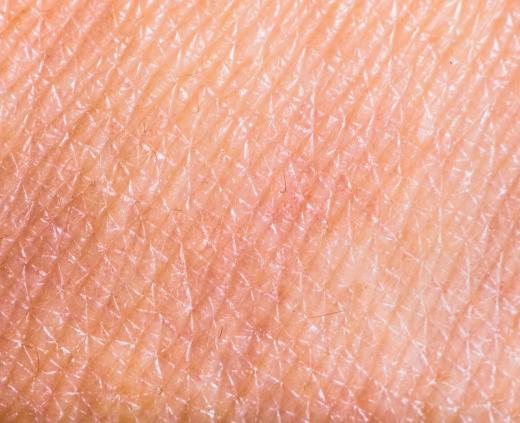 The nature of these cells makes them particularly vulnerable to abnormalities. Routine ultraviolet exposure can damage their DNA and cause them to start growing uncontrollably. This leads to basal cell carcinoma if the body doesn't identify and kill off the rogue cells. While the cancer typically spreads very slowly, it can penetrate through the basement membrane, the layer between the epidermis and the dermis. A doctor will usually consider the growth malignant because of the health risks.
Treatment for basal cell carcinoma involves removal of the growth and monitoring the site to see if the cancer returns. Recurrence is not uncommon, and it can become disfiguring, as the cancer usually strikes in areas routinely exposed to the sun like the nose, lips, and neck. Pale people are most likely to develop basal cell cancer because their skin lacks a protective layer of melanin, and they can reduce their risks by using sunscreen and wearing protective gear like hats and long sleeves while out in the sun.
AS FEATURED ON:
AS FEATURED ON:

By: Alila Medical Media

Basal cells are keratinocytes.

By: Deyan Georgiev

Basal cells are skin cells that exists at the base of the epidermis.

By: LoloStock

Cancer in the basal cells is commonly found on areas of the body that are frequently exposed to sunlight.

By: Maridav

Wearing sunscreen can help light-skinned people reduce their chances of basal cell cancer.