What is a Balance Disc Cushion?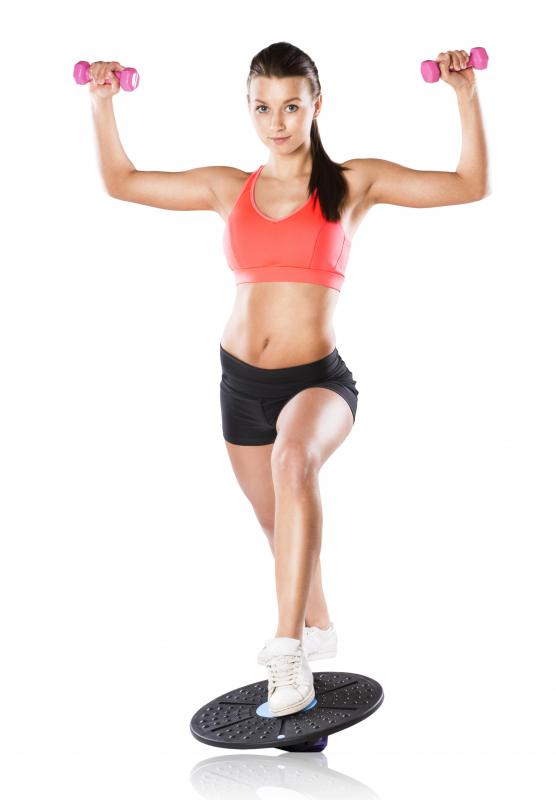 A balance disc cushion is a piece of fitness equipment used to help strengthen and tone the core muscles. It can be used as a part of an exercise routine as well as a way to help burn calories and engage the core muscles while the user is in a seated position. For this reason, the cushion is often used by people who want to be able to improve their fitness while seated at a desk. This is a benefit for people who have professions that keep them from getting much exercise during the course of a day.
Many people use a balance disc cushion instead of an exercise or fitness ball, which are also used to offer the same sort of benefits to people who are maintaining a seated position for long periods of time. The benefit of a cushion is that it is much smaller than an exercise ball or a fitness ball. It is also portable, so it can be easily taken from location to location. Some are even small enough to fit easily into a tote bag.
These cushions can typically support quite a bit of weight. In fact, some models can even withstand up to 350 pounds (about 160 kilograms). While sitting on a balance disc cushion in a chair, the muscles in the abdomen, the lower back, and surrounding the spine are all challenged. Sitting on one can improve posture in addition to working all of these muscle groups. In addition to being used while sitting in a chair, it can also be used for a number of fitness exercises, particularly ones related to balance and strength training.
Most models are made out of plastic and are kept firm via inflation. As such, they usually come with a pump so that the cushion can be inflated as needed. Many of them also come with an instructional brochure or book that includes information about how to get the best benefits our of the cushion and how to use it safely and effectively.
Balance disc cushions aid in strength and conditioning.