What Happens at a Holistic Healing Center?
A holistic healing center provides alternative healing therapies instead of drugs and surgery. This type of healing center devises a treatment regimen geared specifically to the individual and instead of taking a one-size-fits-all approach. Holistic medicine treats the whole person and doesn't limit its focus to the part that is sick or out of balance. Some of the therapies that may be employed at a typical holistic healing center include colon hydrotherapy, oxygen therapy, body detoxification, massage, and acupuncture. Energy therapies such as Reiki, chakra balancing, and polarity therapy are other healing modalities that may also be offered by a holistic healing center.
Colon hydrotherapy, also known as colonic irrigation, is an alternative health treatment that removes waste and other materials that have built up in the colon. A tube is inserted into the rectum and water is flushed through for about an hour to gently cleanse the upper and lower bowels of accumulated waste, toxins, parasites, and bacteria. Some colon therapists add coffee to the water to help flush the system. It is believed that removing this matter from the bowels can help increase energy, reduce fatigue, and remove obstructions. Some people also believe that colon irrigation can help clear the mind and improve the thinking process.
Oxygen therapy is used to deliver a higher concentration of oxygen than is present in the ambient air. The type of oxygen therapy employed in a holistic healing center is based on the philosophy that the pathogens that cause illness can only thrive in a low-oxygen environment. Advocates of oxygen therapy believe that fungi, bacteria, viruses, and cancer cannot replicate when a high amount of oxygen is present. It is believed that oxygen therapy can raise the energy level and sense of well-being, improve the immune system, and relieve symptoms such as nausea and headaches.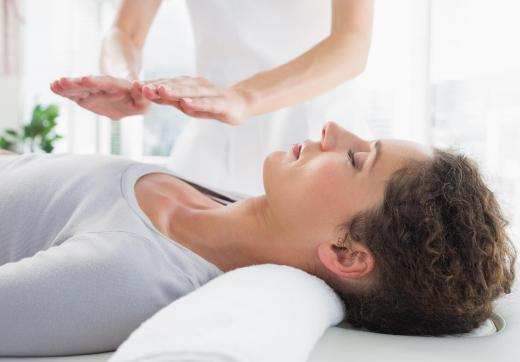 Body detoxification is offered by nearly every holistic healing center as part of its services. Toxins from the air, food supply, and water can accumulate in the body and cause fatigue, aches, and a variety of illnesses. It is believed that eliminating these toxins from the body can improve the immune system, increase a person's energy level, and eliminate illness and other health problems. There are many different kinds of detoxification methods. Some of these treatments include the use of herbs, colonic irrigation, fasting, dieting, massage, and yoga and other exercise programs.
AS FEATURED ON:
AS FEATURED ON:

By: tosha11

Colonic irrigation involves inserting a tube into a person's rectum and sending water through the tube to flush out waste.

By: WavebreakMediaMicro

Energy therapies like Reiki may be offered at a holistic healing center.