What Factors Affect the Cost of Mobile Advertising?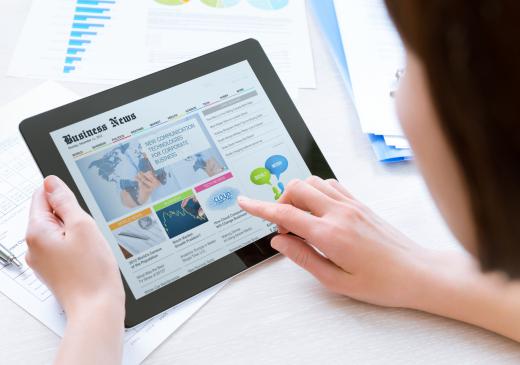 As with any form of advertising, there are a variety of factors that affect the cost of mobile advertising. The purpose of an ad, the target market, along with supply and demand are typical factors that affect the value of any marketing campaign. Channels and networks, or the destination of an ad, are more specific to mobile advertising with some channels costing more than others depending on the size. Another factor affecting the cost of a mobile ad is the way a marketer chooses to pay for ad clicks and whether or not the advertiser is trying to build a brand name. The type of device mobile advertisements are directed towards is also a significant concern when considering effectiveness and cost.
The ad network a marketer chooses is perhaps one of the most influential factors affecting the cost of mobile advertising. There are primarily three different types of networks used for mobile phone marketing and advertising. A blind network, a network that does not target a market and runs advertisements randomly, is the least expensive, but may not be as effective. Premium blind networks are essentially blind but offer service and advertising options for companies looking to build a brand or product name at a moderate cost. Premium networks are the most expensive and multinational corporations use them to build brand names in certain markets.
Another factor affecting the cost of mobile advertising concerns the nature of the ad that is run on the network. One of the most common is called a cost per click (CPC) advertisement. In this form of ad, the advertiser is charged each time a customer clicks on the banner advertisement. The cost per thousand impressions model (CPM) is an option used primarily for branding by companies with a larger advertising budget. Advertisers pay a fixed dollar amount for every thousand clicks on an advertisement or redirects to the company's website.
Businesses looking to expand into mobile advertising should consider the types of mobile phones they wish to place focus on. Most mobile advertising campaigns are directed towards phones with full Internet browsers, and the prices vary depending on the amount of exposure a business wants. Prices for these advertisements are about the same as the cost for those used on personal computer browsers. For phones without full Internet browsers, or wireless application protocol (WAP) phones, advertisements must be specially designed and may affect the overall cost of a campaign.


By: bloomua

Mobile advertising may be displayed on a tablet computer.

By: hurricane

Companies often devise advertising strategies based on the age and gender of mobile users.

By: Eugenio Marongiu

As with regular ads, the cost of mobile advertising can be impacted by factors including the size of the audience being reached, and the specific makeup of that audience.