What Factors Affect the Cost of a CNC Router?
The computer numerical control (CNC) router is widely used in the shaping of wood and other materials and has many design specifications. Several factors, therefore, affect the cost of a CNC router, including whether it is new or reconditioned, how fast it can process material, whether it has multiple spindle heads or not, among others. As of 2011, the lowest cost of a CNC router is easily ten times less than the highest level machine, so choosing the appropriate one can involve some searching to compare features and prices. Routers made in nations such as China, where labor costs are low, are also much less expensive versus comparable models made in Europe or the United States.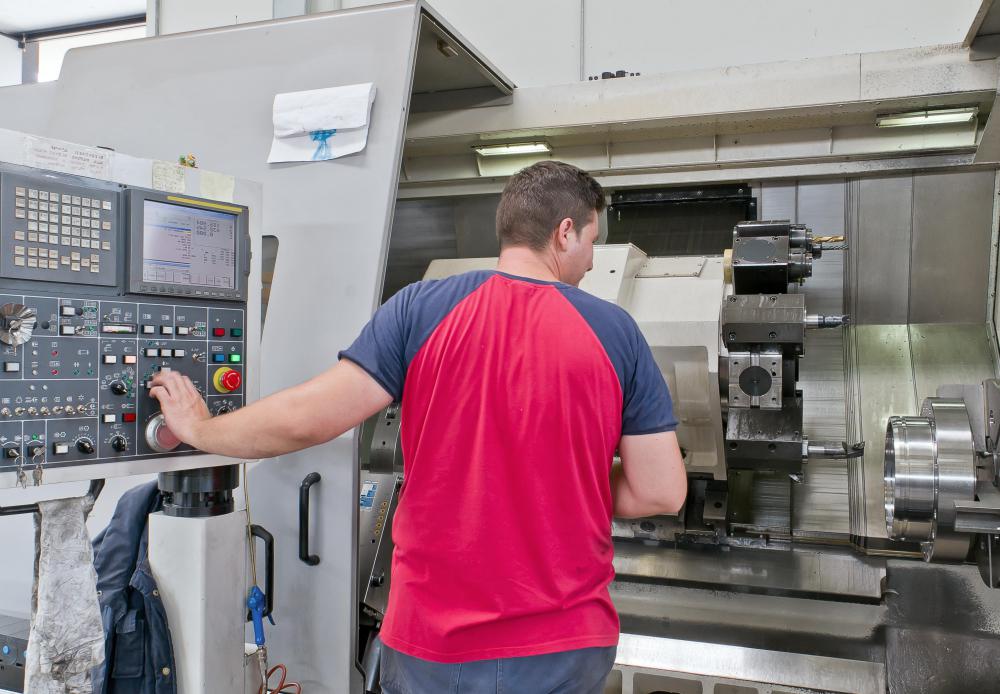 Since a hobby CNC router can be over 100 times cheaper than an industrial model, it is important to define the factors that go into such a wide range of prices in the cost. Cheap CNC router equipment usually comes in kit form that has to be assembled locally. A small table area of around 1 foot by 1 foot (30.48 by 30.48 centimeters) to 3 feet by 6 feet (appx 1 by 1.8 meters) is usually the norm. They often are constructed of inexpensive materials such as wood and aluminum, and the cutting action is very simple. Though they must have a controller system to qualify as a CNC machine, this is often not included in the basic purchase price.
Discount CNC routers are designed for light duty factory use and are about ten times more expensive than the hobby models, with this price range bringing table sizes up to 4 feet by 8 feet (1.22 by 2.44 meters). The Z-axis for up and down motion of the cutting bits is usually limited to about 6 inches (15.24 centimeters). Like hobby models, they may also arrive in kit form, but are made out of aluminum and steel with linear rail guides. The main distinction in cost of a CNC router at this level is the type of spindle included, which can be a standard or industrial level unit running at 3 to 6 horsepower, and supported by a motor-driven drive assembly. Optional equipment available would be a vacuum system to collect dust, but it will cost extra.
Buying a CNC router in the mid-range will procure a machine that is similar in specifications to the discount models except that the frame is of a much heavier, reinforced design for a stable cutting surface. Dust collection systems are included, but an optional feature would be an automatic tool changer. Brand names will account for much price variation with a professional CNC router like this. Cutting tolerances can go down to 0.0005 inches (0.0127 millimeters) as well, which is at least twice as fine as both hobby and discount models.
Very high-end models affect the cost of a CNC router by having up to four to five cutting axes instead of the traditional three. The table sizes can be as large as 7 by 20feet (2.13 by 6.1 meters) and the machines are several tons worth of high-grade steel. They have multiple cutting spindles and built-in computer controls. Tolerances are still at the 0.0005 inch (0.0127 millimeter) maximum level, however, and training services offered by the seller are offered for an extra fee. CNC router parts for these machines will also be the most expensive, and the equipment often comes with a warranty to protect against manufacturer defects.
Using a CNC router requires a significant investment and should be carefully planned for. The cost of a CNC router is not in the purchase of the equipment alone either, and often must include additional software, training, shipping costs, and spare parts inventory. Floors may need to be reinforced to handle the weight, and entryways widened to get the machine into the building. Often a consultant from the company will come along to set up the machine at an additional cost, as it will arrive in parts and have special power requirements if it is a high-end model.
The cost of a CNC router may be determined by how fast it can operate and whether or not it has multiple spindle heads.

Industrial CNC routers used in factory settings are much more expensive than hobby models.