What Factors Affect a Real Estate Broker's Salary?
With a wide range of potential job descriptions, a real estate broker's salary can vary widely. One of the key determinants of a real estate broker's salary is whether the broker uses his license to make deals on his own or serves as the manager of a brokerage, drawing a set salary with incentive compensation. In addition, real estate brokers can also use their license for positions completely unrelated to property sales, which can also affect their salary.
One of the most important factors in determining a real estate broker's salary is whether they are involved in a sales role or have a non-sales-related staff position. In a sales position, a real estate broker will typically derive some or all of his income from incentive pay. A real estate broker's salary for work outside of sales will typically be larger, but the broker will have fewer, if any, opportunities for incentive pay, usually resulting in less total compensation.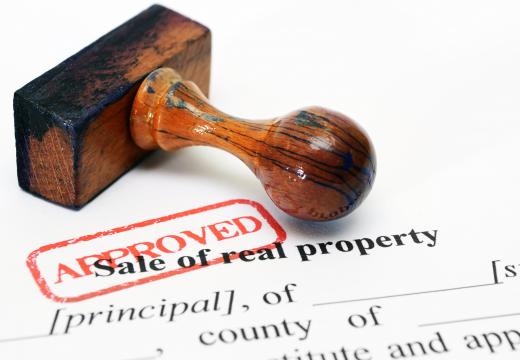 The typical real estate broker acts as a selling agent while also employing other salespeople. He or she generally works as a contractor, receiving compensation for closing deals instead of a salary. For brokers who both close their own deals and get a piece of each deal closed by salespeople under them, this arrangement can be extremely lucrative, and in 2011, it is not at all uncommon for brokers who work as sales agents to have six digit incomes. Other brokers receive a salary and a smaller "spiff" on transactions. In exchange for the security that the salary brings, the smaller performance-based portion of their pay means that they frequently earn less in good years when they have good performance.
Real estate brokers typically work in either the residential or commercial side of the business. Generally speaking, commercial brokers out earn residential brokers by a large margin. On the other hand, commercial real estate brokerage is a much harder business to enter while anyone who can get a license can become a residential real estate broker and start his or her own brokerage.
An individual broker's work ethic and productivity ultimately determine his salary and other income. Many real estate broker's license holders work part-time, selling houses on weekends or chasing the elusive "big paycheck" in the commercial realm, and earn relatively little. Others work consistently and have a good strategy, whether on the residential or commercial side, and can earn incomes in the high six figures with some commercial brokers earning seven figures.


By: monamakela.com

Documents associated with a real estate sale.

By: Adam Gregor

Brokers receive compensation for closed deals.

By: alexskopje

Real estate brokers must pass exams where they learn about the technical, ethical and legal aspects of real estate.