What does an Imaging Technologist do?
A medical imaging technologist is a health care professional trained in the use of specific imaging equipment utilized to help diagnose patients. Imaging is various techniques and computer-based machines that take pictures of the inside of the body. These images assist physicians in diagnosing or identifying problems or illnesses inside the body.
There are several different types of medical imaging technologists. A radiography imaging technologist is trained in the use of x-rays and other radiation-based diagnostic tools such as CT's, or computed tomography scans, and MRI's, magnetic resonance scans. The technologist can also choose to specialize in just one area, such as a CT or an MRI imaging technologist.
A CT scan, also known as a CAT scan, is a specialized x-ray which can take images from different angles. It then joins the images together to provide an in-depth look at the internal structures. Unlike the traditional x-ray, this scan shows more detail and can capture images of not just bones, but the soft tissue and blood vessels as well.
An MRI, on the other hand, utilizes radiofrequency waves with a magnetic field. This scan can produce clear, detailed images of internal structures. Plus it is an invaluable tool in the diagnosis of illnesses such as heart disease, stroke and cancer.
The medical imaging technologist can also work in sonography. Also known as ultrasound, sonography is a diagnostic tool that utilizes high frequency sound waves. These sound waves bounce off of internal structures to capture an image.
More complex imaging techniques include nuclear medicine. A nuclear medicine imaging technologist uses radiopharmaceuticals, or radioactive medications, and specialized cameras and computers to capture images. Imaging technologists can also be trained in the use of fluoroscopies. A fluoroscope is a radiographic image taken after the ingestion of a contrast medium. This solution allows for specific structures inside the body to be highlighted for a detailed image to be captured.
Some imaging technologists specialize in a specific body part or illness. For example, a sonographer may choose to work in obstetrics and gynecology. A radiographer, on the other hand, may choose to work with cancer patients.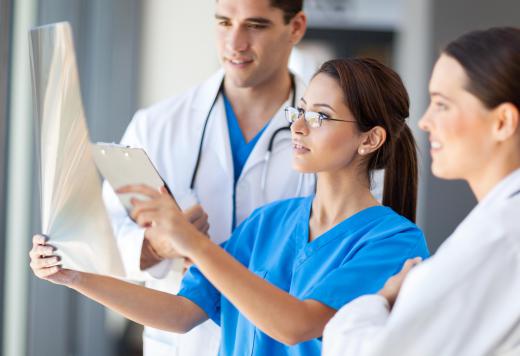 Imaging technologists require advance training on techniques and equipment. Training can vary from a one-year certificate program to a four-year degree program, depending on the level of expertise and credentialing required. Some imaging technologists opt for a Post-Baccalaureate degree. Most imaging technologists work within a hospital or clinic setting.
AS FEATURED ON:
AS FEATURED ON:

By: Andrey Navrotskiy

A magnetic resonance imaging scanner.

By: Konstantin Li

An ultrasound uses sound waves.

By: michaeljung

Medical imaging often allows doctors to make a diagnosis without invasive testing.

By: adam121

Imaging technologists use a variety of equipment to capture images of the inside of the human body.