What does an Employment Recruiter do?
An employment recruiter works with both job candidates and companies seeking employees. The recruiter helps companies find qualified candidates to fill jobs. He also helps candidates who come to his office seeking work to find a position that suits their skills and job needs.
An employment recruiter may work for a large company. It is only practical for the company to employ a full-time private recruiter if it has significant staffing needs. In such cases, the recruiter is generally part of the human resources department of the company and is responsible for interfacing with all departments of the company to determine staffing needs, as well as for structuring help wanted ads, streamlining the interview process, and conducting preliminary interviews of candidates. Often, companies will have a person on staff who is in charge of recruiting but who also serves other functions; for example, a law firm will have a managing partner who recruits new employees or a company will have a hiring manager in the human resources department. These individuals serve the function of an employment recruiter, but it is not their full-time job.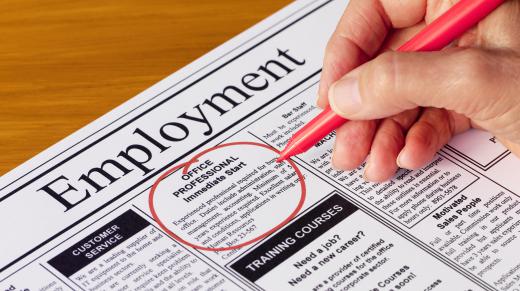 Many employment recruiters also work for staffing agencies or headhunter firms. These are independent companies whose sole function is to match qualified candidates with companies who need to fill positions. Some staffing agencies are general purpose staffing agencies, which means they will accept a variety of candidates at different skill levels to fill positions ranging from administrative support to factory work. Other agencies are specific to a certain industry or a certain level of employee; for example, a legal staffing agency may work with only paralegals or law school graduates, while an executive staffing agency or headhunter may work only with those candidates qualified for high level, high paying executive jobs.
When an employment recruiter works for an independent staffing agency, he receives requests from many different companies that are interested in filling vacancies. He then either posts a job ad for the company, or reviews the collection of resumes he has on file from candidates who came to him seeking jobs. He conducts pre-interviews for the company and sends over a list of qualified candidates the company can then interview. If the company hires an individual who was recommended for the job through the efforts of the employment recruiter, the recruiter or agency is paid a percentage of the salary that the employee is earning for a set period of time or is paid a flat fee for the service he provided in finding the employee.
AS FEATURED ON:
AS FEATURED ON:

By: Pixsooz

An employment recruiter may be responsible for structuring help wanted ads.

By: Alexander Raths

An employment recruiter is responsible for interviewing and referring applicants for jobs.

By: Syda Productions

Employment recruiters may develop a contract for candidates to look over.