What does an Elections Supervisor do?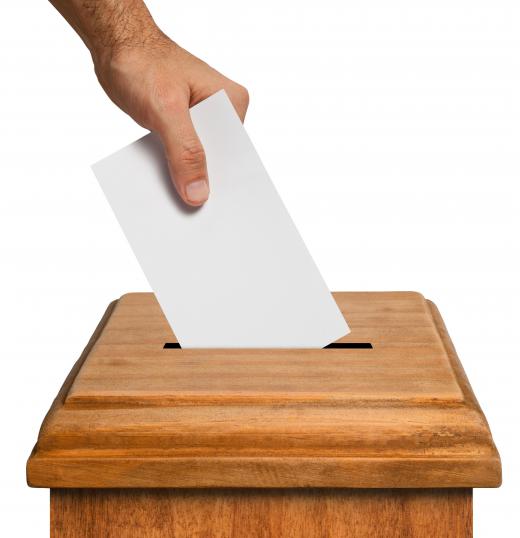 An elections supervisor ensures that political elections are conducted within local, regional and national laws and guidelines. She is generally required to have experience in directing the activities of clerks, supervisors and election workers who contract to assist in voting procedures on the day of the election. A good rapport with contacts at polling places is desirable to plan and implement setting up booths, tables and voting equipment prior to the election.
The elections supervisor often is the main contact for vendors and contractors supplying voting machines and peripheral equipment to polling sites. She is required to maintain open communications with them prior to, during and after the election. Her formal approval generally is needed to replace or repair any official equipment used during the voting process.
An elections supervisor is a leadership role, so experience in training and educating administrative and support personnel is desirable. Administrative skills in public and community relations are sometimes preferred, along with experience in personal computer applications and project coordination. Conflict resolution background is helpful should questions arise involving last minute campaigning guidelines.
The election supervisor is commonly in charge of compiling and approving the final content of signage and flyers used at the polls. These may include directional posters to restroom and handicapped access points. They may also include restrictive signs, such as those prohibiting smoking or food inside the polling locations or alerting voters of restricted parking areas.
Web site design and maintenance are normally coordinated by the election supervisor as well. She may contract the design work to a third party, but she may be expected to approve the graphics, write the copy, edit it for clarity and accuracy and make sure the Web site is updated in a timely manner with new or revised information. Once the site is launched, she is required to monitor it on regular basis and report any glitches in links or content to the webmaster.
An elections supervisor generally needs to stay up-to-date on the latest voting equipment operation and any changes in voting policies and procedures. This includes knowledge of automated and manual voting systems, processing spoiled or invalid ballots and voting system troubleshooting. The elections supervisor should be well-versed in the set up and breakdown of polling locations and the subsequent delivery of poll results to information drop-off centers. Strictly following protocols in handling ballots and voting records also is important to be successful as an elections supervisor.


By: elnavegante

Elections supervisors ensure voting is held in compliance with local, state and federal laws.

By: Kelpfish

Elections supervisors need to stay informed about any new voting policy changes.

By: Corgarashu

Supervisors make sure that elections are conducted in compliance with local, regional and national laws.

By: Stephen Coburn

A successful elections supervisor follows strict protocols when handling ballots.