What does an EKG Technician do?
An EKG technician is a medical professional who administers tests to record and analyze electrical impulses transmitted by the heart. He typically works in a doctor's office, clinic, or hospital and often runs the tests as a regular part of pre-surgery screening. Tests are also commonly performed by the technician as part of a general physical examination of a middle-aged person or one who has experienced past cardiovascular problems.
To conduct a basic EKG test, the technician relaxes the patient as much as possible to get the most accurate results. He attaches three to 12 electrodes to specific points on the patient's legs, chest, and arms. A nearby EKG machine reads the impulses generated by the electrodes. The test results, which are displayed as wave tracings, are printed onto paper. The technician reviews them and ordinarily highlights areas of concern before giving them to a physician for analysis.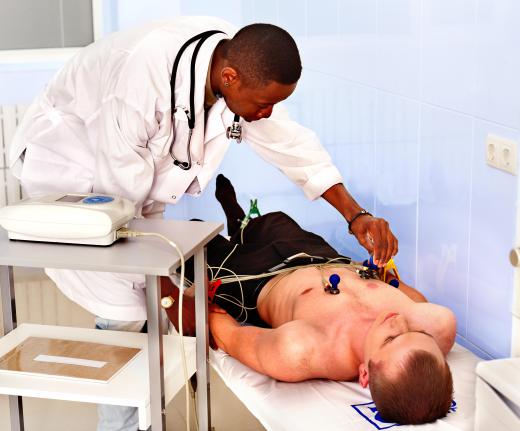 Two more advanced tests, one that detects irregular heartbeats and one that measures stress, may be conducted by an EKG technician who has successfully completed a higher level of training. These tests are usually ordered when a patient has demonstrated symptoms that warrant investigation. One or both tests may be administered to a patient at the discretion of the doctor.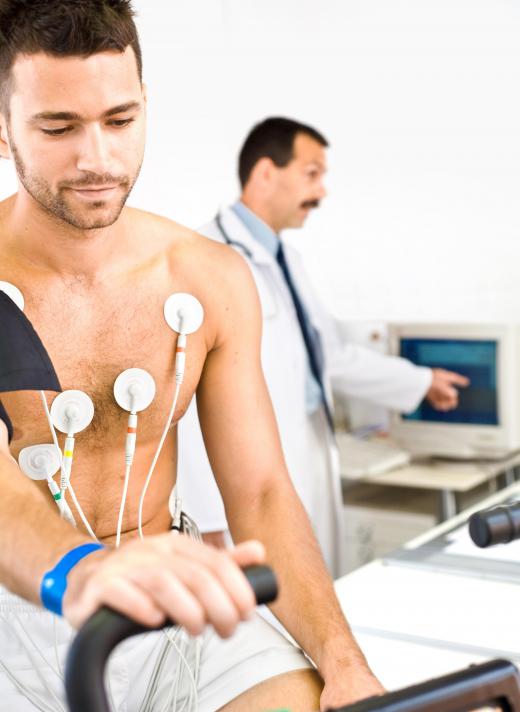 To perform the test that helps diagnose heart conditions such as irregular heartbeats or murmurs and helps check for pacemaker problems, a portable EKG monitor called a Holter is fastened to the patient's belt for a minimum of 24 hours. The monitor is attached to electrodes that are placed on the patient's chest. At the end of the test period, the results are scanned for accuracy. If they meet quality standards, a paper report is produced for the doctor's review and interpretation.
The other test regularly performed by an EKG technician with advanced training is a stress test. The patient's EKG reading is taken while standing still. The results are compared to those obtained while the patient walks on a treadmill. The technician slowly increases the treadmill speed and further monitors the patient's EKG numbers. This procedure lets the doctor determine what effect the physical exertion has on the patient's heart and cardiovascular system.
These technicians traditionally work in hospitals and clinics, and cardiologists sometimes have them on staff at their private practices. Private medical institutions may also have this type of technician as a regular employee or contract EKG services through an on-call agency.
One year certification programs in basic and advanced EKG technology are normally available through junior colleges and technical training facilities. EKG supervisors and cardiologists customarily offer on-the-job training to persons with a high school diploma or equivalent. If a technician is educated on the job, the training is usually completed in eight to 16 weeks.
AS FEATURED ON:
AS FEATURED ON:

By: Gennadiy Poznyakov

An EKG technician administers tests that analyze the electric impulses transmitted by the heart.

By: nyul

A person getting an EKG may be asked to go through several exercises.

By: aykuterd

An EKG technician may be consulted if a heart murmur is discovered during a physical.

By: pankajstock123

An EKG technician may help diagnose heart conditions.

By: oscar williams

An EKG may be performed on someone who is suspected of having cardiovascular disease.