What does an Automotive Technician do?
An automotive technician is typically responsible for diagnosing things that go wrong with vehicles and then using the right tools to repair them. An individual with this title is often responsible for performing maintenance on vehicles as well. For example, he may do oil changes and tune-ups to keep vehicles in good working order. He typically uses a range of tools in performing his work, including wrenches, jacks, pressures gauges, and computers.
A major part of an automotive technician's job is usually diagnosing problems that affect vehicles. Often, a person with this title listens carefully to a car owner's description of the problem to evaluate what may be wrong with a vehicle. A person in this position may also use a computer system to help diagnose issues with a vehicle. When neither the customer's description or such diagnostic testing proves revealing, an automotive technician may test drive a customer's car in order to get a better idea of what may be wrong with it.
After determining the cause of a customer's vehicle trouble, an automotive technician typically has the job of figuring out the best way to fix it. This typically involves not only determining the repairs that must be made, but also deciding which tools and parts to use. Once he's decided on the right repair job and the appropriate tools, an automotive repair technician typically gets started on repairing faulty parts or replacing them. Some automotive technicians are jacks of all trades and work on many different types of car problems. Others may specialize in certain types of car repairs, such as those involving transmissions, engines, or air conditioning systems.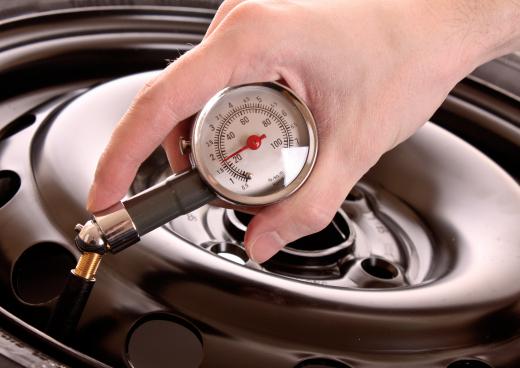 Automotive technicians typically find jobs working in vehicle repair shops. Some may work for large businesses that handle all kinds of vehicle repairs while others may work in shops that fix one type of vehicle problem. An automotive technician who opts to work in a smaller shop may need to care for a wider variety of vehicle problems simply because he may be the only automotive technician in the shop or one of only a few.
The requirements a person has to meet to become an automotive repair technician may depend on where he works and the preferences of potential employers. Often, an aspiring automotive technician earns a diploma, certificate, or associate's degree in automotive technology in preparation for this career. In some cases, however, a person may even get started with just a high school diploma and mechanical experience or interest.
AS FEATURED ON:
AS FEATURED ON:

By: Michael Flippo

Automotive technicians can perform oil changes.

By: Africa Studio

Checking the tire pressure regularly and keeping the tires properly inflated is an important part of auto maintenance.

By: Monkey Business

Automotive technicians use tools and computers to diagnose and repair car problems.

By: Željko Radojko

An automotive technician may replace a car's battery.

By: ashadrov

Some automotive technicians specialize in one part of the vehicle's systems, such as the transmission.

By: Tyler Olson

Auto service technicians are trained to read OBD-II codes, which can point to issues with the vehicle.