What does an Aerobics Instructor do?
Cardiovascular activity is a way for people to lose weight, increase energy, and improve heart and lung health. One way people can include cardio in their lives is to take aerobics classes. An aerobics instructor is a fitness professional who teaches aerobics classes to people who want to improve their physical fitness.
People who teach aerobics need the ability to choreograph exercise movements to music. An aerobics instructor must also be able to plan alternate movements for exercisers at various skill levels. Novice exercisers need to perform movements that are designed for those at a lower fitness level. In contract, advanced exercisers require movements that are tailored for people possessing a higher level of fitness. It is the aerobics instructor's responsibility to create an exercise routine that benefits a range of fitness levels.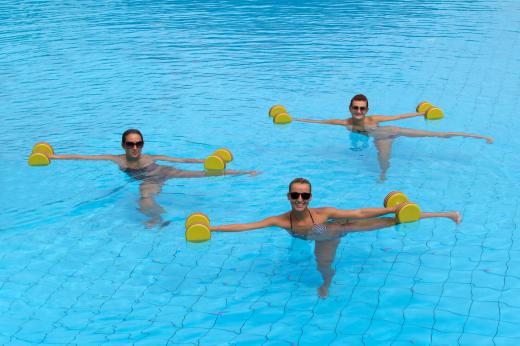 People who teach aerobics can work in a variety of settings. For example, aerobics instructors may work in health clubs, company fitness centers, community centers, and other fitness facilities. While some employers require that their aerobics instructors possess certification, other employers hire aerobics instructors who can demonstrate their ability to effectively teach a class.
Some employers require that their fitness instructors hold a bachelor's or master's degree in physical education or exercise science. Companies usually encourage all of their fitness instructors to work toward certification through a reputable fitness organization. They also may ask that their instructors become certified in cardiopulmonary resuscitation (CPR).
If someone wishes to become an aerobics instructor, he or she should enjoy exercising and working with the public. Aerobics instructors need to possess a caring attitude, since they often work with people who are new to exercise and may feel uncomfortable with participating in an exercise class. Fitness professionals who teach aerobics class should also possess the talent for choreography and be able to quickly devise an exercise routine for students to perform in a safe but effective manner.
Aerobics instructors who wish to advance in the field may choose a variety of avenues. Some aerobics instructors may aspire to be personal trainers. Personal trainers work on-on-one with clients who desire more personalized training from an instructor.
Other aerobics instructors may wish to become managers or directors of fitness centers. Still others may wish to specialize in a particular fitness area such as Pilates or yoga. In general, advancement in the field requires that the fitness instructor earn a degree or further certification. Those who wish to specialize in a particular exercise form will need to pursue further training in that discipline as well.
AS FEATURED ON:
AS FEATURED ON:

By: american911

Water aerobics is an exercise performed in a pool.

By: michaeljung

People who teach aerobics need the ability to choreograph exercise movements to music.

By: Thomas Perkins

Some gyms and community centers require their aerobics instructors to complete bloodborne pathogen training.

By: william87

People who teach aerobics can work in a variety of settings.

By: .shock

Aerobics instructors are expected to have an ability to workout in front of large groups of people.

By: icsnaps

Some aerobic instructors are also certified to teach yoga.

By: highwaystarz

Some aerobics instructors have experience as physical education teachers or coaches.