What does a Transportation Security Officer do?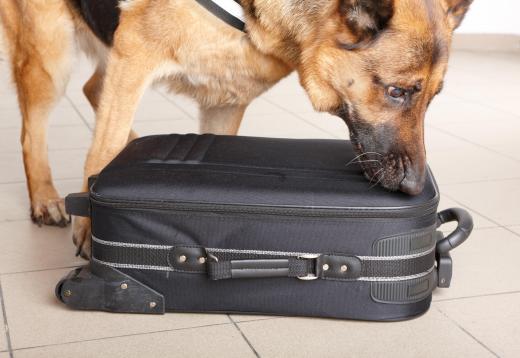 A transportation security officer works for the Transportation Safety Administration (TSA) to ensure the safety and security of travelers and airplanes that travel to and from cities throughout the United States (US). The specific duties of a transportation security officer can include the inspection and searching of, and use of security wands on, passengers who are passing through a security checkpoint before boarding a plane. An officer will also check baggage both through x-ray machines and visually inspecting opened baggage to ensure that any suspicious objects are benign and do not present security threats. The officer must also be able to control entry and exit points throughout airports to ensure that no one is allowed into an airport unless authorized to do so.
Originally created as part of the US Department of Transportation in November of 2001, the TSA was established to ensure the safety of airplanes and of the passengers within them throughout the US. Transferred to become part of the Department of Homeland Security in 2002, the TSA continues to be tasked with the duties necessary to ensure that airline passengers are safe and that any efforts to disrupt, damage, or otherwise endanger the safety of passengers are prevented. A transportation security officer is at the metaphorical front line of airline safety, and works every day to ensure that dangerous, illegal, or contraband items are not taken onto airplanes.
Travelers usually meet at least one transportation security officer at any security checkpoint in every major airport in the US. These officers are the ones who check passengers' tickets, identification, and luggage. While routine security screenings can be quick and efficient, sometimes more thorough examinations are required.
An officer typically has to visually look for potential security threats and perform hand-wanding, the use of a handheld metal detector to ensure no harmful items are on a person. A transportation security officer is also typically required to watch x-ray machine displays to ensure no potentially dangerous items are transported onto an airplane and to occasionally manually search luggage for security purposes. Officers also monitor exit and entryways to ensure people do not bypass security checkpoints to board airplanes.
To become a transportation security officer requires good physical condition, as an officer may be on his or her feet for up to four hours at a time without a break, must be able to repeatedly lift up to 70 pounds (about 32 kg), and walk up to two miles a day while working. Certain vision and hearing requirements must also be met. An officer must also have the mental concentration and fortitude to remain calm and focused in moments of crisis and while interacting with tired and potentially hostile travelers.


By: Monika Wisniewska

Some TSA officers use dogs to screen luggage for drugs or explosives.

By: James Steidl

TSA security officers prevent contraband and dangerous items from being taken onto airplanes.

By: Franz Pfluegl

Security officers who are employed by the Transportation Security Administration (TSA) help to ensure the safety of airline passengers and cargo.