What does a State Trooper do?
A state trooper is a law enforcement officer who works for a state police department or highway patrol organization. While some people may think state police officers mainly write speeding tickets, they often actually have a variety of duties. These duties may include, for example, investigating traffic accidents, arresting people suspected of crimes, and rendering first aid in emergency situations. State troopers also have the authority to enforce laws throughout the state in which they work, as opposed to local cops who generally only enforce laws within in the town or city they are assigned to.
It is true that one of the essential duties of a state trooper is to enforce traffic laws. This generally involves monitoring state highways, as well as local roads for traffic infractions, such as speeding or driving under the influence (DUI). The primary method for identifying drivers who are speeding typically involves the use of a radar gun. On the other hand, troopers must rely mainly on their perception skills to spot possible DUIs. They may do this, for example, by looking for drivers who are swerving in the road or driving erratically or unusually slow.
During a traffic stop, a person in this position typically has a number of responsibilities beyond simply writing a ticket. He or she must often run a background check with the dispatcher at the police department to see if the driver is wanted for any crimes. If he or she suspects the driver is intoxicated or under the influence of drugs or alcohol, he or she will often conduct a field sobriety test or breath test to check for alcohol. Finally, if a person is found to be under the influence or is wanted for a crime, the state trooper would typically be responsible for arresting the individual and transporting him or her to a jail or other processing location.
When responding to traffic accidents, burglaries, or other crimes, state troopers are often called upon to investigate the scene. This generally requires officers to utilize a variety of skills and investigative methods. For example, investigating a traffic accident may require someone to interview witnesses, take measurements in an effort to determine where the vehicles impacted, and assess road conditions. Using all of the gathered information, the trooper generally then issues a report stating how he or she believes the accident occurred. In some cases, the officer may be called to testify in court.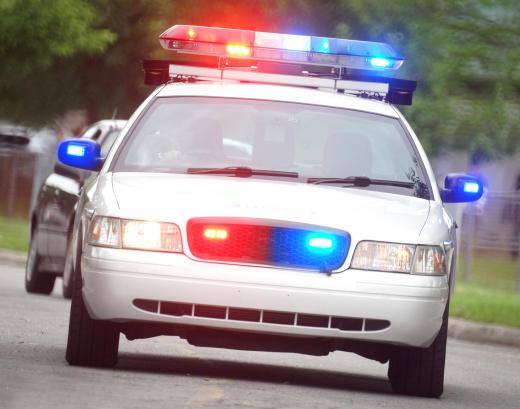 State troopers also work as first responders. When arriving first on the scene at a traffic accident, fire, or other incident where someone is seriously injured, they often offer emergency first aid, such as artificial respiration or cardiopulmonary resuscitation (CPR). They may also help pull trapped individuals out of cars, burning buildings, or other emergency situations.
Other responsibilities of a state trooper can include providing crowd control at large events and providing security for traveling dignitaries. They can also include educating children on the dangers of drugs, or helping victims of domestic violence find resources in the community. This variety of duties, underscored by the opportunity to help others, is what often attracts many troopers to the job.
AS FEATURED ON:
AS FEATURED ON:

State troopers enforce driving laws on state and federal highways.

By: aijohn784

State troopers use radar guns to measure the speed of cars and trucks.

By: mario beauregard

State police may be called into to help other departments during a raid.

By: Unclesam

State troopers are sometimes referred to as highway patrol officers.