What does a Service Cashier do?
A service cashier doesn't just process customer purchases through a cash register, but rather he or she strives to provide customers with a pleasant shopping experience. These workers are also called customer service cashiers. They do all of the typical tasks that most cashier stand jobs require, but stores hiring these workers expect the focus to be on customer communication rather than on ringing purchases through.
Greeting customers warmly and politely answering any questions about store products are basic tasks that service cashiers do while they process customer purchases. A person in this position uses a cash register and makes change. He or she may also use a computerized price scanner. Many process credit and debit cards. Bagging customer purchases may be done by the cashier or another employee.
Standing for most of the work day is something a service cashier is expected to do. When there aren't any customers at the cash register, cashiers are usually expected to clean the cashier stand or otherwise keep busy. Some also do some clerical work in which they may sit down for such tasks as telephoning customers about special orders.
A customer service cashier is usually expected to suggest additional products to customers in the form of an upsell. Upselling means trying to politely convince the customer to purchase another product that relates to what he or she is already purchasing. For instance, if the customer is buying an air mattress on sale, the cashier could suggest the coordinating inflatable pillows that are also sale priced.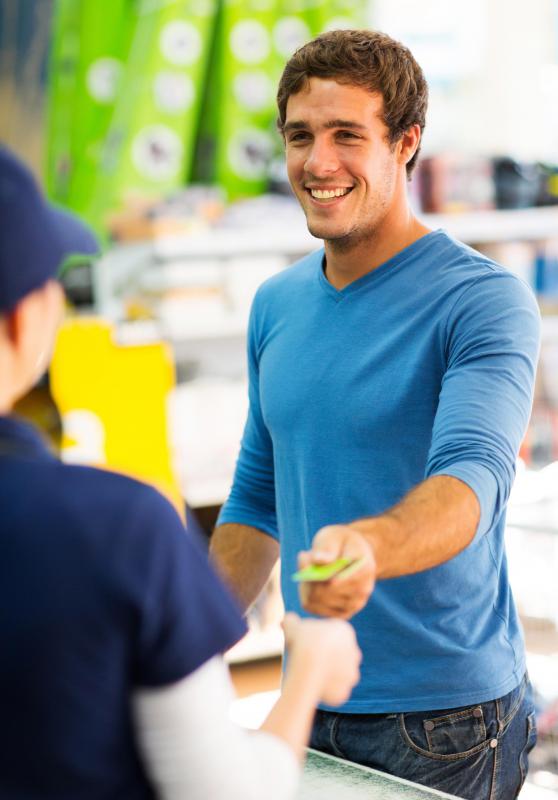 Good service cashiers don't consider themselves as order processors, but rather as salespeople. However, they can't annoy or pester the customer into buying; rather they concentrate on providing the best service possible. These cashiers must spend their workday politely communicating with customers while promoting the store's products and services in a low-pressure manner.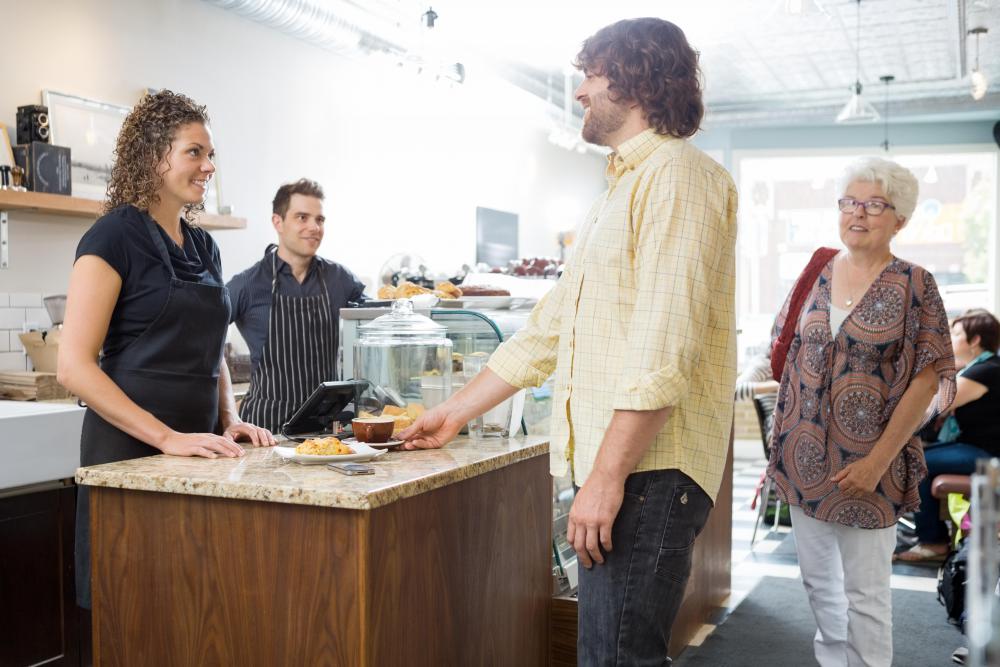 No formal education beyond grade 12 or its equivalency is usually required to become a service cashier. People in this position do need to be accurate at making change or the store loses money. Employers usually prefer to hire cashiers with some experience, but it is possible for a service cashier to be trained on the job. A cashier may be able to work up to a supervisory store position. Since these cashiers are expected to relate well to customers at all times, patience and excellent communication skills are required in these jobs.
By: Andrey Bandurenko

Many service cashiers process credit and debit cards.

By: Lisa F. Young

A service cashier works closely with customers as well as completing sales.

By: Kadmy

A service cashier differs from a regular cashier in that they focus on customer interaction.

By: michaeljung

Service cashiers may handle authorizing returns and dealing with disgruntled customers.

By: Tyler Olson

A service cashier often suggests additional purchases to customers.

By: bst2012

A service cashier should have good math skills as well as an upbeat personality.