What Does a Roof Inspector Do?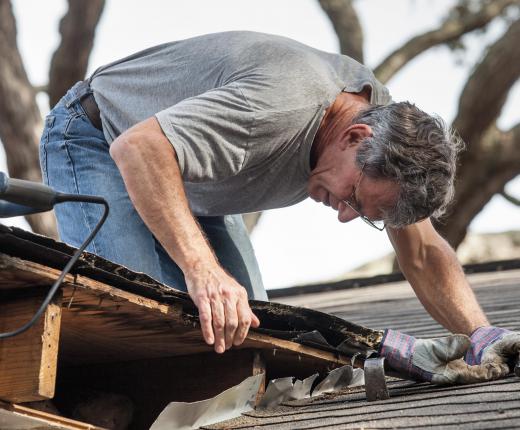 A roof inspector examines the roof of a commercial or residential building and completes a report that details its condition and the projected life expectancy of the roof. Typically, an inspector completes such a report at the request of the property owner or another party that is intending to purchase the building. In other instances, a roof inspector may produce a report at the request of an insurance firm or lender.
In many locations, inspectors have to be licensed and the licensing or certification process sometimes includes the applicant having to attend a series of classes. Attendees learn about tiles, metal sheeting and other materials that are often used in the roofing industry. Many countries have laws that require contractors to install roofing materials in a certain manner and these rules often form part of the region's building codes. During training classes, students are also taught how to recognize different kinds of structural damage as well as rot, mold and other problems that could threaten the structural integrity of a roof. At the end of the training session, students may have to pass a licensing examination that includes both a written and practical component.
During an inspection, a licensed professional views both the interior and the exterior of a property and completes a checklist that details each section of the roof and the types of damage and materials that inspectors are trained to look for. In situations involving negotiations over a sale price for a home, a prospective buyer may demand that the seller drops the asking price as the result of defects that come to light during the inspection. Conversely, a seller may order a report as a way of justifying the market value of a home. Insurance firms and lenders often require homeowners to order an inspection report to ensure that financed or insured properties do not have any underlying issues that could cause the building's market value to drop.
In many instances, a roof inspector is an individual who has prior experience working as builder or roofing contractor. Some inspectors offer to conduct the necessary repairs while other inspectors refer homeowners to business partners. Typically, a roof inspector charges a fee for each home report and many of these individuals are self-employed. Some real estate firms, construction companies and lenders employ in-house inspectors who conduct reports on behalf of these entities. While laws in some areas enable non-licensed inspectors to examine certain types of properties, employers typically only offer jobs to fully trained and certified professionals.


By: forestpath

A roof inspector is responsible for examining the roof of a building and completing a report detailing its condition.

By: bonniemarie

Some inspectors offer to make needed repairs, while others make referrals to qualified roofers.