What does a Presiding Judge do?
A presiding judge is the judge with the legal authority over a given case. Presiding judges may work in any number of courts, including a state court system, a district court, court of appeals, a family court, a bankruptcy court or a tax court, among others. The presiding judge makes determinations on the application of law within the given case.
In the justice system within the United States, juries ultimately decide the guilt or innocence of defendants within many cases. Unless a person waives his right to trial by jury guaranteed in the Sixth Amendment, it is the jury who will hear the evidence, make a determination on who is telling the truth, and proclaim guilt or innocence. Even in jury trials, however, a presiding judge serves an important function.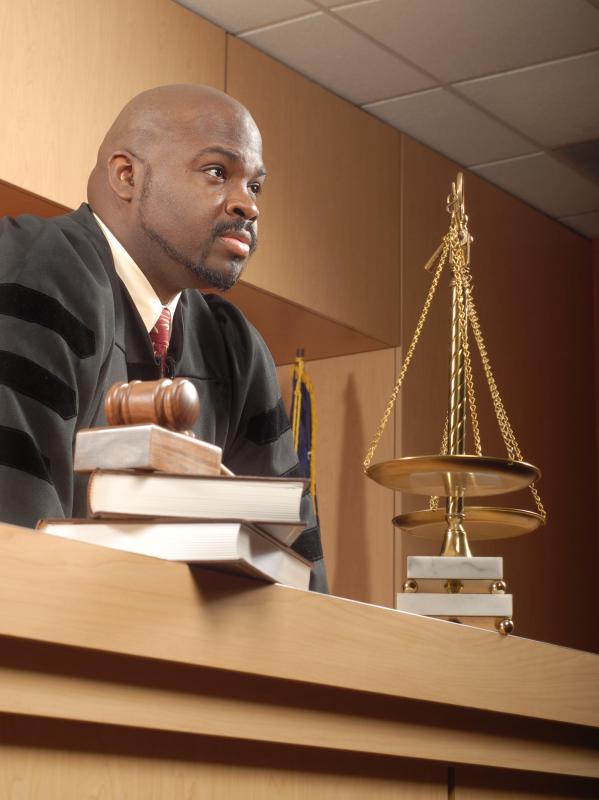 While a jury decides guilt or innocence, there are a number of legal rules that impact the way in which a trial goes. For example, rules dictate that each party must have sufficient evidence that a reasonable question of law arises to bring a case in court. If one party has no evidence at all, the other party can file a motion to dismiss. If that occurs, the presiding judge will consider the evidence available and make a determination on whether to dismiss the case or allow the case to proceed to trial.
Many other questions of law and legal issues also exist that a presiding judge has the responsibility for deciding. The judge has the obligation to apply the rules of evidence, determining what is and is not admissible for either side to present to the jury. He has to determine what information each party can request from the other during discovery if the parties have a dispute during this formal exchange of information. He also has to rule on objections made by lawyers and determine what instructions are given to a jury.
If a judge does not apply the law correctly, a case can be appealed. When this occurs, a higher court reviews the legal findings of the judge that presided over the original trial. While the appeals court will not generally change findings of facts made by the jury, the appeals court can alter the outcome of the case and/or send the case back to the original court for retrial with clarifying instructions to the judge if it believes the original judge made some mistake in his application of legal rules.