What Does a Personnel Administrator Do?
A personnel administrator works in a human resources (HR) department and takes responsibility for matters related the recruitment, training and termination of employees. Government entities and businesses of all sizes employ personnel administrators, although in some instances organizations operate without HR staff. In these cases, department supervisors typically handle staffing issues. Major companies often employ a team of personnel administrators and divide HR tasks among these employees. The administrators normally report to an HR or personnel manager or director.
When job positions become vacant the personnel administrator has to create a job requisition. This document details basic job duties, and usually includes a list of the academic and professional credentials that an applicant must have in order to be considered for the position. Administrators normally work closely with departmental managers to determine the salary range for each vacant position. Open positions are often posted internally which involves the personnel administrator sending around company wide memorandums or emails to make potential candidates aware of the job opening. If a firm cannot fill a position from within then the administrator advertises the role externally in newspapers, at employment offices or online.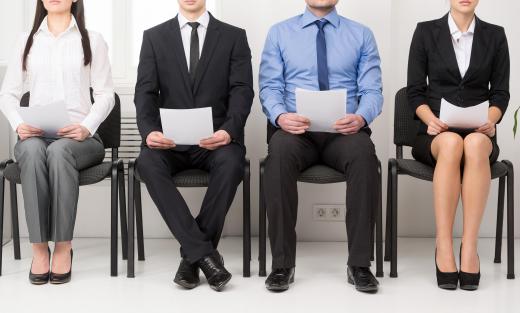 The personnel administrator reviews job applications and schedules interviews. If the hiring manager wishes to offer the job to a particular candidate then the administrator has to negotiate terms with the applicant and conduct any necessary background or reference checks. The administrator conducts new employee orientation which involves explaining the company culture, benefits and basic job functions to the new recruits. In some instances, the personnel administrator also takes responsibility for training new hires or for scheduling training sessions.
Disputes between staff and disciplinary matters are normally handled by HR staff. Personnel administrators have to ensure that departmental managers have not violated any laws by discriminating against workers or acting unethically. HR Administrators can arrange to have poorly performing employees demoted, retrained or fired. When employees are terminated, typically it falls to the personnel administrator to cancel the employee's benefits and to disburse the fired employee's final paycheck. On some occasions terminated employees file charges against the firm in which case the personnel administrator may have to appear in court to explain the firm's conduct.
At some firms, administrator jobs are entry level positions which high school graduates can apply for. Major corporations often require HR staff to have degrees in business, management or personnel administration. Experienced HR staff can transition into management roles. Generally, HR managers have minimal direct contact with company employees other than the HR personnel administrators that they manage.
AS FEATURED ON:
AS FEATURED ON:

By: BlueSkyImages

A personnel administrator often reviews job applications and schedules interviews.

By: Jeanette Dietl

A personnel administrator works in the human resources department, and may handle disputes between staff and disciplinary matters.

By: goodluz

A personnel administrator is tasked with recruiting potential hires for management positions.

By: kanzefar

A personnel administrator may be in charge of leading new hire orientation sessions.