What does a Nuclear Technician do?
There are several types of nuclear technician jobs, and each has its own set of responsibilities. Some duties of a nuclear technician overlap, but almost all positions involve working with nuclear scientists and engineers. Various job functions include radiation monitoring, decontamination work, monitoring reactors and nuclear waste processing. The work environments for nuclear technicians vary greatly and include laboratories, doctors' offices, power plants and visiting various locations for testing and environmental assessments.
Some major types of nuclear technician jobs include nuclear reactor operators, accelerator operators, radiation monitors or health physics technicians, radiographers and decontamination workers. In all these positions, the work requires knowledge of testing techniques and expertise in operating radiation measuring and monitoring equipment. A clear understanding of nuclear energy and radiation safety procedures and the ability to keep concise and timely records are also required. Many positions require wearing protective clothing and identification that identifies the presence of radioactive contamination.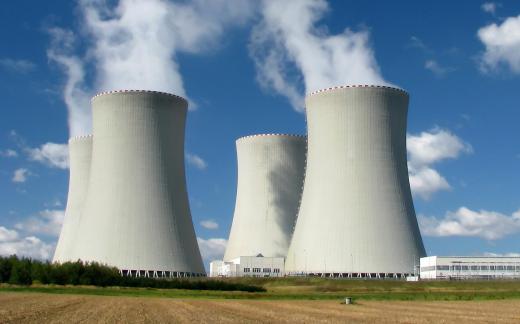 A nuclear reactor operator is involved in all aspects of reactor operations and maintenance, including loading and unloading reactor fuels and monitoring processes. These nuclear technician duties are performed either on site or from a distant location utilizing an instrument panel operated by remote control.
Particle accelerators, a key component in nuclear research, are set up and operated by accelerator operators. These technicians analyze the effects of electrically charged atom particles on the nuclei of other atoms. The particle accelerator basically speeds up tiny particles to almost light speed, then collides them to reveal their components.
At facilities that produce nuclear energy or are involved in activities that use nuclear energy, the radiation monitors, also known as health physics technicians, keep an eye on radiation levels throughout the plant. They ensure the levels are kept in check and do not put workers in danger of contamination. An important part of their job is to keep meticulous records and guarantee the radiation levels never exceed safety levels.
To assure equipment and machinery is safe, radiographers use radiation detection tools to x-ray metal and welded equipment to detect cracks or flaws that may endanger workers. In a related job, hot cell technicians use remotely controlled testing tools to monitor radiation levels in hot cells, rooms protected by concrete and lead to prevent leakage. These technicians must sometimes enter the cells in protective clothing to perform tests.
In the event of radioactive contamination, decontamination workers assess the toxic levels and take steps to reduce them to an acceptable status. Waste treatment operators safely process and properly dispose of nuclear waste. Similarly, radioisotopes, which are radioactive forms of common elements, are tested by radioisotope production operators and made safe for shipment.
AS FEATURED ON:
AS FEATURED ON:

Nuclear technicians operate and maintain nuclear power plants.

By: Jumbo2010

Some nuclear technicians must process nuclear waste.

By: Minerva Studio

Nuclear technicians may conduct research in laboratory settings.

By: Trish23

A nuclear technician may be involved in administering radioactive dyes and other contrast agents for some medical imaging scans.

The reactors onboard nuclear submarines are operated by naval nuclear technicians.

A nuclear technician may work in a research and development facility that studies the viability of producing power from a fusion reaction.