What does a Litigation Paralegal do?
The duties of a litigation paralegal vary widely from law firm to law firm. Some litigation paralegals are given a large amount of responsibility, while others are quite restricted and have responsibilities that resemble secretarial-type duties. Generally, a litigation paralegal helps an attorney prepare for trial. She can organize and prepare documents, prepare for witnesses depositions and work out logistics for depositions and trial. She may also file documents with the courthouse and attend trial in support of the practicing attorney.
There are many steps before a trial begins and during the course of a trial that may require the help of a skilled litigation paralegal. When a new case is accepted by a law firm, the litigation paralegal may prepare the case file and organize documents. For example, she will make sure the files are organized in chronological order, or whatever order is used by the attorneys of the law firm. She may work to coordinate the production of documents with other law firms as well. In many cases, before documents can be produced, the paralegal will number every document page, redact or hide certain information, make copies, and index the documents.
Many law firms have complex computer databases. The litigation paralegal may be responsible for developing and maintaining those databases. Through the database, a paralegal can search for documents and make computerized notes. Although the paralegal may have help from case assistants and technology assistants, the bulk of the responsibility for the databases may fall on her shoulders.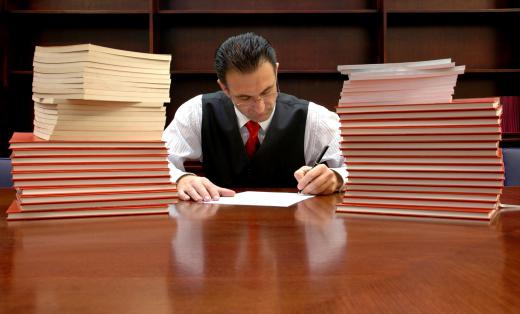 In some law firms, a litigation paralegal works in close contact with witnesses and clients. She may set up depositions and interviews or meetings with attorneys. She may create memos from the notes an attorney makes regarding a particular client or witness as well. If she is supervised by an attorney, she may collect and prepare relevant documents, prepare and organize exhibits, and make sure exhibits are properly handled during the course of a deposition.
Sometimes a litigation paralegal is responsible for reading, proofing, and correcting memos, motions, and briefs. If case law is quoted or referred to in a legal writing, she may be asked to verify the source or the citation. In many cases, if exhibits are attached to motion, brief, or memo, they are organized by the paralegal as well. If a form is used for a motion, the paralegal may even fill out the form and have an attorney review it prior to filing it with the court.
Some law firms require the paralegal to know the rules of the court. As a result, they must be able to relay deadlines and filing details to the attorney. For example, some courts require motions to be typed in a certain size font, while others require the caption to be set up in a specific manner.
In trial, the litigation paralegal will typically be responsible for many of the details during the course of the trial. She may be responsible for keeping track of exhibits for each party of the case, for example. She also may be in charge of mundane duties, such as bringing lunch or coffee for the attorney at trial.
AS FEATURED ON:
AS FEATURED ON:

By: George Wada

Duties of a litigation paralegal are varied and often depend of the particulars of a given law firm.

By: Corgarashu

A litigation paralegal can organize and prepare documents, prepare for witnesses depositions and work out logistics for depositions and trial.