What does a Facilities Maintenance Supervisor do?
Facility maintenance supervisors work in a wide variety of industries and hold numerous responsibilities. People who hold this position generally are in charge of planning facilities projects, managing a facilities staff and performing facilities maintenance tasks themselves. One of the main aspects of the facilities maintenance supervisor job is maintaining the upkeep of a building, property or grounds, as well as repairing and operating machinery and tools.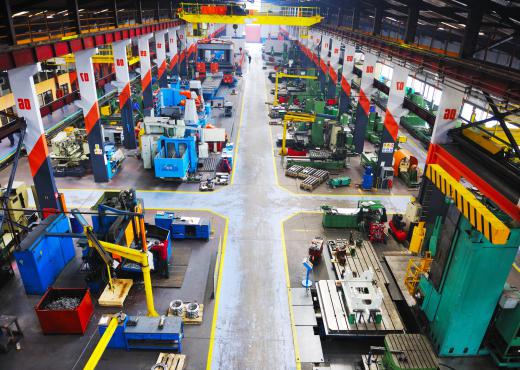 The facilities maintenance supervisor typically has many duties. Some supervisors are responsible for preparing and managing a building's maintenance budget. Most are required to hire and train facilities management personnel as well as manage staff schedules and tasks. Other responsibilities include repairing machinery, ordering parts and supplies for the building and working closely with the property management team. The supervisor usually is the person responsible for maintaining important building inventory and ensuring that the property is up to proper legal codes as well.
Many types of companies and industries need these types of supervisors to help manage their properties. The facilities maintenance supervisor might be hired at a school, hotel, apartment complex, factory, hospital or medical building, office park, government building or a financial institution. Some large companies have several facility maintenance supervisors who are responsible for specific regions or at multiple locations. Smaller organizations have only one or two staff, so the facilities maintenance supervisor has more hands-on duties.
The typical duties for a facilities maintenance supervisor varies from day to day, depending on the property's needs. For example, if a building's air conditioning system has problems, the supervisor might spend all day or several days repairing it or managing contracted workers. Many of these kinds of employees work long, non-traditional hours. The facilities maintenance supervisor usually is on-call on nights and weekends as well. He or she typically does not work at a desk all day and must work in both hot and cold temperatures, as well as in inclement weather situations.
Most facilities maintenance supervisors have a high school education or equivalent. In order to qualify for the supervisor role, the candidate often has at least two years of facilities maintenance work experience and knows how to read blueprints. The ideal candidate for this type of position has technical training or previous experience in a wide variety of areas, such as plumbing, heating and air conditioning, electrical and mechanics. He or she must be able to read and write and must have basic computer skills. Many supervisors must have strong interpersonal skills and enjoy problem solving or troubleshooting.


By: Lisa F. Young

Facilities maintenance supervisors are tasked with overseeing or completing building repairs.

By: .shock

Many types of companies and industries need maintenance supervisors to help manage their properties.

By: Cyril Comtat

Facilities maintenance supervisors may ensure that a building's air conditioners are properly functioning.

By: Fotolia RAW

A facilities maintenance supervisor may be responsible for hiring and supervising the cleaning crew.