What Does a Docket Clerk Do?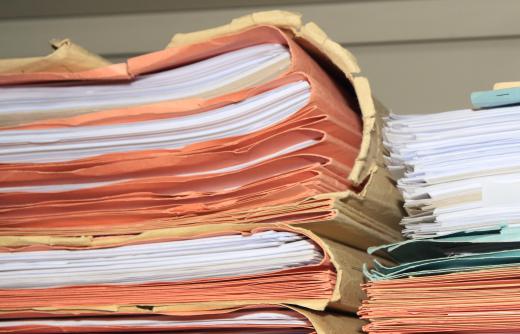 In most jurisdictions, everything that happens in a court case is recorded on what is referred to as the docket sheet. As a rule, each court has a person who is responsible for entering information on the docket sheet for each case. The docket clerk, as he or she is called, will generally have a variety of clerical duties within the court office, the principle of which is to maintain the docket sheets within each case file as well as on the court's computer system if applicable.
The employees who work in a court office may vary somewhat by jurisdiction; however, there are a few key employees found in most court offices. Most courts have a bailiff, whose job is to keep order in the court, a court reporter who records the proceedings, and a docket clerk who maintains the court files. Depending on the size of the court, the docket clerk may also perform other secretarial duties, or may focus only on the maintenance of the files.
When a court case is opened, a physical file must be created to keep track of all filings in the case. In many courts, an electronic file is also created on the court's computer system. One of the first documents placed in the file will be a docket sheet. The docket sheet is simply a piece of paper that allows a record to be kept of everything that happens in the case and the date on which it happened.
When a pleading is filed in a court case, the initiating party must generally submit the pleading to the docket clerk. The docket clerk will then file-stamp the document with the date and time it was filed. The original document may then be placed directly in the file or passed on to the judge for review, depending on what the filed pleading is. An entry of the filing may also need to be made on the court's computerized record system.
In addition to keeping track of documents filed in a case, a docket sheet may also include a summary of court proceedings. For instance, if an initial hearing or pre-trial hearing takes place, the docket sheet would indicate a basic summary of what happened at the hearing. The docket clerk is responsible for entering a summary of the proceedings every time the case is before the court. When the case terminates, the docket clerk will be responsible for properly closing out the file.


By: Steve Morvay

Each court case file has a docket sheet to help organize file contents.