What does a Divorce Mediator do?
Divorce is a life-changing event which is usually associated with significant emotional and financial costs. A divorce mediator is a neutral third party who helps guide couples through their divorce once they have firmly decided that there is no chance for reconciliation. The mediator facilitates a series of meetings where couples may decide the terms of their divorce. Couples who are calling it quits receive many advantages by hiring a divorce mediator instead of allowing the courts to decide their fate.
Although a mediator may be a lawyer by profession, it is important to remember that a mediator is not a divorce lawyer, nor is a mediator a counselor. Each party may have his or her own divorce lawyer present to give them counsel at any meetings; however, divorce mediation is about both parties reaching agreeable terms without having to go to court with a lawyer. Similarly, couples should not ask or receive emotional or psychological advice from their mediator. Couples who believe there is a possibility of reconciliation should be meeting with a marriage counselor, not a divorce mediator.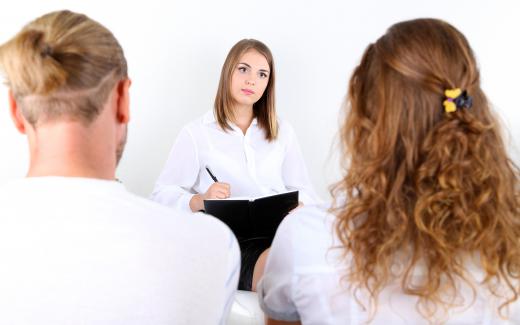 Although the specific things which a divorce mediator helps soon-to-be exes come to terms with may change, his or her primary role as a neutral party who listens to both sides remains the same. A mediator will help couples reach an agreement on dividing property and in some cases, custody arrangements. The division of property in a divorce may include, but is not limited to, homes and vacation homes, money, retirement accounts, cars, boats and other toys. The mediator will never make decisions for the couple or make morality judgments, but will ensure that both parties are able to speak.
Couples who hire a divorce mediator have more control over the terms of their divorce. In addition to not letting the courts control the situation, couples who seek divorce mediation put themselves in a position to avoid the emotional and financial trauma that a lengthy divorce may offer. Because the couple dissects each issue which must be resolved, once the terms are agreed upon, it is unlikely that either party will need to spend the money to fight in court over something. Additionally, the mediation process consists of a few to several meetings and typically doesn't take longer than 10 hours to reach an agreement. Not only does this cost much less than lawyers and a hearing, but it also reduces the emotional abuse which frequently accompanies divorce.


By: zimmytws

The primary function of a divorce mediator is to guide parties through the process.

By: Kurhan

Divorce mediators help couples decide the terms of their divorce.

By: Africa Studio

Divorce mediators can help the divorcing parties avoid a trial in many cases.

By: Halfpoint

Divorce mediators can help determine custodial rights.

By: Bryan Creely

A divorce mediator is not concerned with assigning blame or determining fault.

By: Lee Prince

Divorce mediators may help with custody issues.