What Does a Diagnostic Radiologist Do?
A diagnostic radiologist is a doctor who uses different kinds of images in order to see inside a patient and determine the nature of an illness or injury. Like other doctors, radiologists must go to school for many years and then work as a resident, learning how to treat patients. In most cases, a primary care physician will refer a patient to a diagnostic radiologist when images are needed.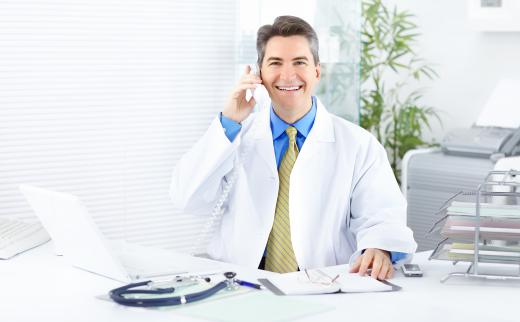 There are many different fields in which a diagnostic radiologist may specialize. Some focus on particular parts of the body, such as the head and neck, musculoskeletal system, or breasts. By focusing on a specific part of the body, a radiologist can learn to quickly and accurately identify problems. Other radiologists specialize in pediatric radiation to diagnose childhood injury and illness, or radiation oncology, diagnosing cancerous growths throughout the body.
In order to diagnose diseases and injuries, a diagnostic radiologist uses a variety of different tools. One of the most common tools is the x-ray, which is a machine that creates an image of the inside of a person's body by using radioactive particles that are partially absorbed by the patient. Radioactive materials can also be given to a patient, either intravenously or by mouth, so that other types of images, such as those taken in a computed tomography (CT) scan, can be obtained and interpreted. Though they do not use radioactive materials or processes, a magnetic resonance image (MRI) or ultrasound can also be interpreted by a diagnostic radiologist.
Most of the time, a diagnostic radiologist works alongside other doctors to diagnose a patient's problem. Patients may not come into contact with the diagnostic radiologist directly because the people who take the images are usually technologists or nurses. Once the images are taken, they go to the radiologist who examines them and reports back to the patient's primary physician. Together, the doctors then come up with a plan for further testing or a diagnosis and a plan for treatment.
It takes many years for a person to become a diagnostic radiologist. The expertise needed to do the job properly takes years of school, both at the undergraduate and graduate level, and a number of years of medical internship and residency. By working alongside experienced doctors, new radiologists can practice their skills on real patients while having access to the expertise of an experienced doctor.


By: Leah-Anne Thompson

A diagnostic radiologist reviews X-rays.

By: Kurhan

The diagnostic radiologist will share the results of the test with the doctor, who can decide a treatment plan based on this information.

By: James Steidl

An MRI scan can be interpreted by a diagnostic radiologist.

By: Monkey Business

It takes many years for an individual to become a diagnostic radiologist.

By: michaeljung

It takes many years to become a diagnostic radiologist.

By: spotmatikphoto

A diagnostic radiologist may specialize in pediatric care.

By: Konstantin Sutyagin

A diagnostic radiologist may interpret CT scan results.

By: jovannig

X-ray machines are one tool used by diagnostic radiologists.