What Does a Dermatologic Surgeon Do?
In simple terms, a dermatologic surgeon is a medical doctor who performs surgical procedures on the skin, and other closely related organs. Doctors who are just dermatologists can diagnose and treat skin-related disorders, using medication or other non-invasive techniques but they cannot perform any surgical procedures to cure those conditions. Dermatologic surgeons have their own organizations and set of criteria for membership.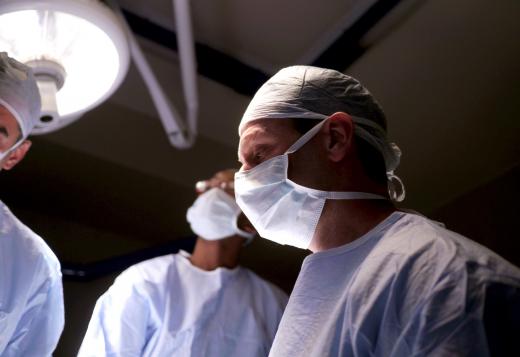 Education for a surgeon starts with admittance to medical school, which usually requires an applicant to earn a bachelor's degree, take preparatory courses as well as a standardized exam, such as the MCAT. Upon graduation from medical school, future surgeons must fulfill a residency in dermatology and pass licensing exams, as required by their local government. To become certified as a dermatologist, an applicant must take additional tests as required by the national dermatologists' association where he plans to practice medicine.
Procedures performed by a dermatologic surgeon not only treat conditions related to the skin, but also deal with problems that affect other closely-related organs. A surgeon treats skin cancer, as well as cancerous growths that manifest on the skin and performs cosmetic skin procedures such as treating scaring from acne. Other conditions with the nails, hair and even veins that sit near the surface of the skin might also be treated by a surgeon.
A dermatologic surgeon works with a variety of tools and techniques, depending on the condition he must treat. Traditionally, a dermatologic surgeon used a scalpel to perform procedures, In modern times, dermatologic surgeons might use lasers, various agents that are injected into the ski or a light diode to perform photodynamic therapy. Even if the surgeon uses a scalpel to perform a procedure, he might make minimally-invasive incisions, such as in an S-lift, also called a mini-lift.
To be considered a dermatologic surgeon, a dermatologist must be both certified with the medical board and belong to a dermatologic surgeon organization. One example of a dermatologic surgeon organization is the American Society for Dermatologic Surgery in the United States. An applicant might have to take an exam and submit letters of recommendation to be considered for membership in the organization.
Only certain dermatological surgeons are certified to perform Mohs surgery, which requires additional training. Mohs surgery, also called chemosurgery, is a microscopic form of surgery used on skin cancer patients. The surgeon must remove cancerous skin tissue and examine it on a microscopic level, before finally performing reconstructive surgery to replace the removed skin tissue.


By: Marina Lohrbach

A dermatologic surgeon may sue a scalpel to perform procedures.

By: fivepointsix

Only certain dermatological surgeons are certified to perform Mohs surgery.

By: goodluz

Dermatologists can diagnose and treat skin disorders, but cannot perform surgery.

By: mkrberlin

Dermatologic surgeons may use laser therapy on some patients.

By: Ocskay Bence

Dermatologic surgeons might be able to help people get rid of acne scars.