What does a Customer Service Associate do?
A customer service associate works directly with customers, typically in a retail, hospitality, or restaurant establishment to ensure they have a positive experience and to resolve any problems as quickly and painlessly as possible. He or she must remain pleasant and professional even under stressful situations, or when dealing with angry customers, though most businesses have certain rules stating that service associates do not have to deal with customers if they become belligerent or abusive. This type of job is often defined as a mid level position, above cashiers and other associates, but below supervisors or management positions.
Large corporations often use the title, customer service associate, for employees who work in a call center. These individuals may never interact with customers face to face, but will provide help over the phone such as by answering questions, setting appointments or reservations, or setting customers up for services such as home utilities. Generally, though, the associate is one who works directly with customers, and may often be found behind a returns desk, a courtesy counter, or behind the front desk at a hotel or an airport, for example.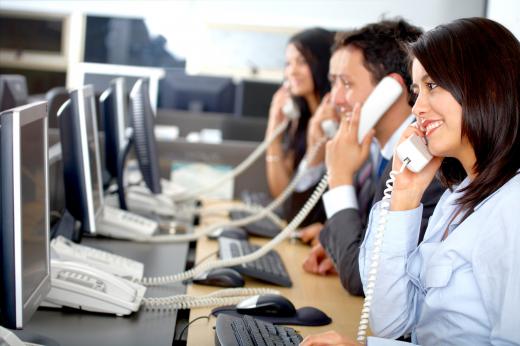 Clientele may approach the customer service associate when they have an issue that needs to be resolved. Some common issues include an item ringing up at the wrong price, or the need to return an item that was purchased for a refund. In the hospitality industry, such an associate may assist guests if they need to be moved to another room, or need assistance understanding charges on the bill. Sometimes an associate in customer service will offer an additional benefit to the customer as an apology for a problem, such as an additional percentage off the bill. The customer is then more likely to remember the experience positively and to return to the establishment again.
It is important for any customer service associate to listen closely to the customer and determine exactly what the problem is, and then explain how he or she will solve the problem. This should generally be done as quickly as possible, since customers tend to become annoyed very quickly if they have an issue, particularly if it is is the fault of the company. Even if it is the customer's fault, however, the service associate should remain friendly and polite, and explain what the customer's options are to fix the problem to his or her satisfaction.
AS FEATURED ON:
AS FEATURED ON:

Large businesses often have dedicated customer service call centers.

By: Syda Productions

Customer service representatives have to treat customers well, even if they're having a bad day themselves.

By: jura

Customer service associates in retail will interact face-to-face with customers and assist them in anyway possible.

By: Tyler Olson

Customer service associates often resolve customer complaints.