What does a Court Usher do?
A court usher is a member of the criminal or civil court who attends to the parties entering the courtroom and handles the tasks necessary during a court proceeding. There are minimal qualifications for this type of position, but a high school diploma and good communications skills are usually required. Ushers are in charge of coordinating all that happens inside the courtroom, including seating witnesses, administering oaths, labeling evidence and preparing the courtroom. The term "court officer" is used in the United States to describe the role of a court usher.
Part of the court usher job description is to prepare the courtroom every morning before court begins. This part of the job includes ensuring the judge, lawyers and jury have all the necessary equipment they might need when court starts. Keeping the courtroom looking orderly between breaks and changes in court sessions is another part of preparing the courtroom.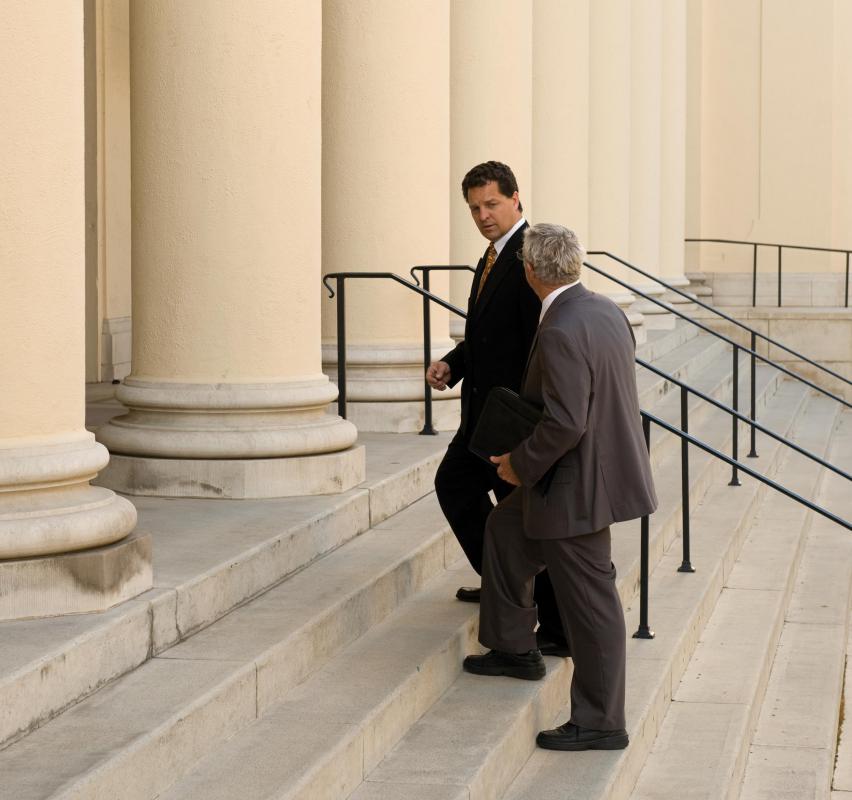 Throughout court proceedings, it is the responsibility of the court usher to call witnesses into the courtroom if they are waiting outside the room. Administering the oath to witnesses, escorting the jury to and from the courtroom, and passing information from the lawyers to the judge are all activities the usher does during a court session. Other tasks are done by a person in this position if the judge or lawyers in the courtroom request it. Throughout court proceedings, he or she exudes a control over the room, including professional members of the court, the jury and the public.
Labeling items as they are entered into evidence by the prosecution or defense is an essential part of the court usher's job description. Handling the evidence appropriately by placing it in designated areas and recording the evidence into a log is also necessary. Mishandling of evidence can result in a mistrial, so all court ushers must know their job well when it comes to touching, labeling and recording important court evidence.
As the face of the court, the court usher greets people coming into the courtroom. This includes the media, members of the family involved in the case, and other public visitors of the court. The usher's job description includes being courteous and helpful to all court visitors. Court ushers should not allow their personal opinion regarding a court case or the people involved in the court case to interfere with their ability to perform the duties of their job.
By: trekandphoto

Court ushers are responsible for making sure the courtroom is ready for a trial.

By: Andrey Burmakin

A court usher must ensure that the judge, lawyers, and jury have all the necessary equipment they need when a trial starts.

By: James Steidl

A court usher may be responsible for keeping the courtroom orderly between breaks and court sessions.