What does a Contemporary Architect do? (with pictures)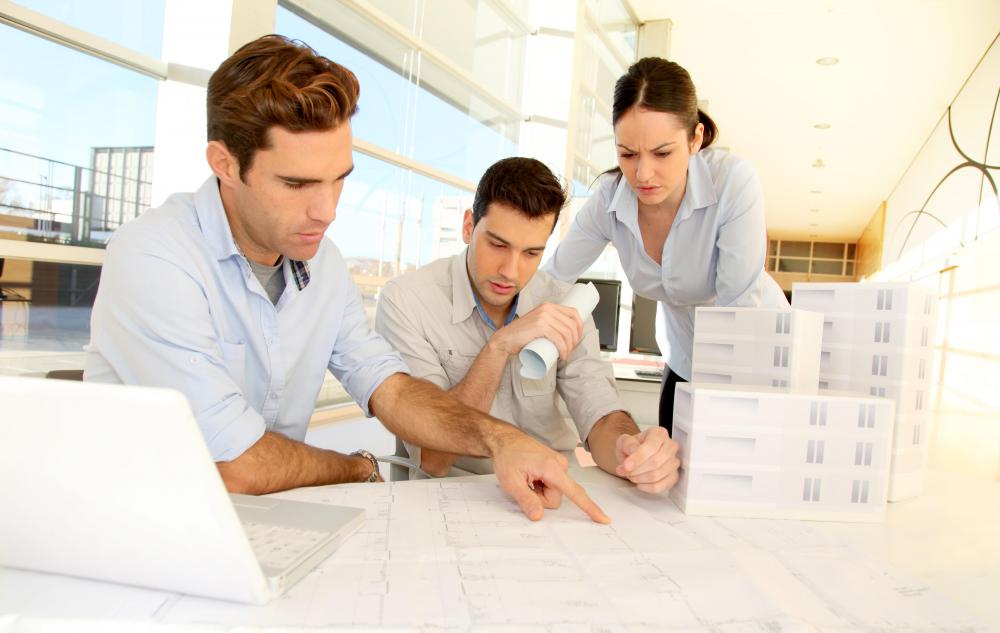 A contemporary architect is a professional who drafts plans for buildings and homes using a contemporary style of design. Contemporary, or modern, design styles feature elements not found in more traditional homes. These can include things like state of the art kitchen appliances and other technologically advanced features, as well as the look and feel of the architecture itself.
The most notable part of the contemporary architect's job is the design of a building's physical appearance. This would include the floor plan and layout of the structure, as well as any sketches of the outside and landscaping. Most architects have a good eye for what looks appealing, and the contemporary architect primarily uses modern design schemes.
Contemporary designs generally feature geometric shapes, bright colors and metals. These aspects can be tied into an overall design scheme by being featured in lighting and plumbing fixtures as well as the shapes of windows and other physical aspects of the architecture. These attributes gives a building an overall contemporary or modern style.
Along with a keen eye for physical details, the contemporary architect also understands the process by which buildings are constructed. This allows him to choose design elements that not only feature a contemporary appeal designed to look attractive, but that are also functional and stable enough for actual use. Included in this process are the placement of supports and beams, studs and other construction related elements.
Contemporary architects use various design software applications to complete their designs. These technological tools allow him to draw and map out entire buildings using a computer. High color graphics and scale 3-D visualizations are also at his disposal for both developing new ideas and presenting them to clients.
Contemporary architects work alongside other building professionals in creating and implementing their designs. They primarily include the construction crews that will be doing the building. The person or business who hired the contemporary architect will also be heavily involved in the process.
To ensure all plans are followed precisely, the contemporary architect will likely be very present during the construction phases. This allows him to address any issues, should any arise. Often, he will return to the site to witness each phase of building until the structure is complete.
In some cases, a separate contemporary architect will be hired to design the layout of all landscaping involved with a building. The landscaping contemporary architect will generally do his job in much the same way as the building focused one, but will deal only with the outdoor scenery. This is primarily an artistic vision with much fewer technical aspects to deal with during the design process.
A contemporary architect designs and plans modern buildings and structures.

The style of contemporary architecture is quite varied.

Contemporary architects must have a keen sense when it comes to aesthetics.

A contemporary architect can help incorporate state-of-the-art kitchen appliances and other advanced features.

Architects are expected to have a familiarity with Computer Aided Design & Drafting, or CADD, software, as well as an understanding of traditional building design.