What does a Compensation Manager do?
A compensation manager oversees the salaries and benefits of a company's exempt and non-exempt employees. She is generally expected to ensure the compensation for each job is fair, equitable and competitive with similar jobs in the demographic. Her job is normally a function of the human resources department.
A company's success is often highly dependent upon its ability to attract and retain good employees. If the firm has a reputation for treating and paying employees well, it will appeal to the most qualified applicants. A good compensation manager develops salary and benefits packages that will draw the best applicants to available positions.
When an organization creates a new position or revamps an old one to increase or decrease responsibilities associated with it, a compensation manager researches the salary and benefits normally associated with it. She commonly reviews similar postings for local companies that are similar in size and worth. Based on her findings, she establishes salary ranges and benefits she deems fair and competitive.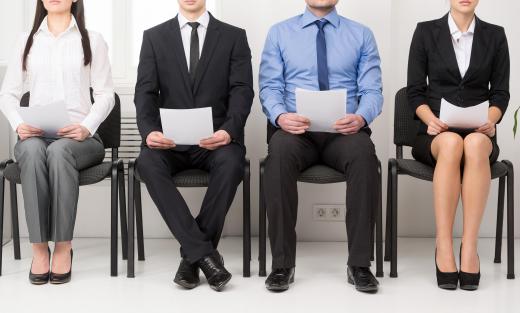 Other factors a compensation manager often considers when setting up compensation plans are rates of retention and other benefits, such as profit sharing or company pension plans. If a job classification has a reputation for high turn over, she may choose to increase the base salary or increase the benefits to make it more attractive to those seeking job stability. She may also promote opportunities for advancement to attract applicants seeking career growth.
In addition to creating salary and benefits packages, a compensation manager frequently writes job descriptions and confers with other managers on classifications. Deciding if a position should be exempt or non-exempt is a determination commonly debated by her and other human resources employees. This difference between paying an employee a salary or an hourly rate and the related overtime factor for non-exempt jobs can be significant. Understanding what local and regional laws govern these classifications is important to a compensation manager's success.
When an employee is hired or terminated, the compensation manager is customarily part of the procedure. She also is traditionally required to explain benefits and compensation packages to new hires. Her job normally entails informing exiting employees of when benefits will expire and how any unused vacation or sick time will be handled as well.
If any issues regarding labor disputes, benefits, harassment or discrimination arise, the compensation manager is typically called upon for her input, along with other human resource staff members. She may also be required to help employees resolve benefits issues. When a problem with payroll arises, the compensation manager is regularly asked to assist in rectifying it.
Applicants for this position are typically required to have a bachelor's degree in finance, business or human resources management. Job experience in these areas is also preferred. Background in compensation or payroll operations is considered an asset.
AS FEATURED ON:
AS FEATURED ON:

By: Andres Rodriguez

Compensation managers work within organizations to evaluate the roles of employees and establish reasonable compensation programs that maintain adequate levels of highly qualified and satisfied employees.

By: BlueSkyImages

Compensation manager applicants are typically required to have a bachelor's degree in finance, business, or HRM.

By: armina

Compensation managers help determine benefits packages, including time paid time off for instances including maternity leave.