What Does a Commercial Fisherman Do?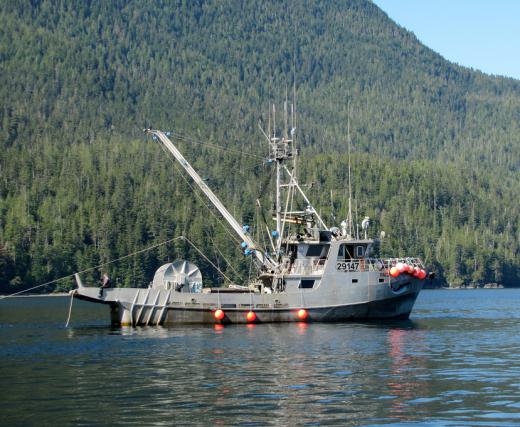 A commercial fisherman traps and captures fish and other marine life for sale to wholesale fisheries and food processing plants. The catch might be used for animal feed or human consumption. A person employed in this occupation might work on a huge ocean vessel for weeks or months at a time. Fishermen working on smaller boats typically remain closer to shore, where they might trap or net fish and shellfish.
The captain of a commercial fishing operation decides where the crew will fish and what type of fish is caught. This commercial fisherman is responsible for all equipment used during the voyage into open waters. He or she assesses the market for a particular species of seafood that might prove most profitable. A fisherman promoted to captain obtains all the necessary licenses and permits for waters the vessel enters. He or she hires a crew and serves as their supervisor.
A commercial fisherman typically uses radar or sonar to identify schools of fish and steer clear of underwater hazards. He or she might also use a compass, a marine chart, and global positioning device to navigate into legal fishing areas. The captain usually negotiates the sale of the catch after returning to port. He or she might use the Internet while at sea to research current markets and prices.
Fish auctions at port represent a common method of selling seafood. Each commercial fisherman working on the vessel receives a percentage of the profit from the catch. The annual income of fishermen varies by the cost of fuel, the market price of each type of seafood, and whether the work is seasonal or year-round.
Sometimes a commercial fisherman serves as the boatswain. This person supervises the loading of equipment before launch and the unloading of the catch at port. The boatswain repairs damaged equipment at sea, along with setting and retrieving nets and hooks. He or she might be responsible for cleaning, salting, and icing down the catch to preserve it.
Work as a fisherman is considered one of the most dangerous occupations for injury or death. A commercial fisherman faces the risk of being swept overboard by a large wave and becoming entangled in gear. Diving mishaps and vessel collisions account for typical injuries in this profession.
A commercial fisherman needs physical strength and stamina. He or she endures fog, wind, and storms while performing the job. A commercial fisherman lives in a confined space with few comforts of home. He or she might become homesick and miss family members during long trips at sea.


By: Paul Hamilton

A commercial fishing ship.

By: smudger21

A commercial fisherman is responsible for trapping and capturing fish for sale to wholesale fisheries.

By: Paul Vinten

Fishermen use radar or sonar to find schools of fish.

By: Gordon Logue

Crab fishing, especially for Alaskan crab, can be mentally and physically exhausting.

By: Fernbach Antal

Commercial fishing boats are typically outfitted with radar and sonar.