What Does a Business Administrator Do?
A business administrator oversees a business and its operations. His job is to ensure that the business meets its goals and is properly organized and managed. The tasks a person in this position has are both wide and varied, and often include ensuring that the right staff members are hired and properly trained, making plans for the business' success, and monitoring daily operations. When organizational changes are necessary, a person in this position usually leads the way as well. In some cases, the person who starts or owns the business serves as its administrator, but this isn't always the case, as sometimes a company hires an individual for the job.
When a person has the title of business administrator, he is essentially the manager of the company and its other managers. He oversees those in managerial positions to ensure that they follow company policies and work toward the company's goals in the most efficient manner. For example, he may work with the managers of the human resources, production, finance, accounting, and marketing departments to ensure that they function properly and are working inline with the company's goals and objectives. Additionally, he might interact with people outside the company, such as business partners and vendors.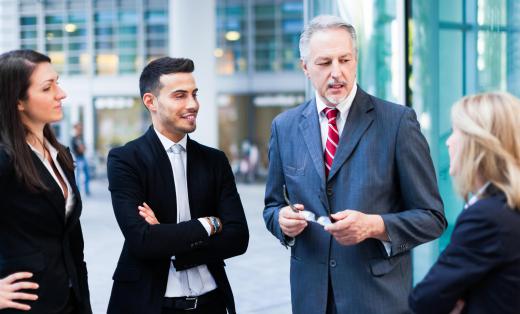 Many people think of business management as overseeing people and the tasks they perform for a business, but a business administrator's job usually involves much more than this. For instance, a person in this position is often responsible for ensuring that a company engages in ethical practices and applies effective leadership dynamics. He may also have responsibilities that involve business technologies and keeping up with or setting trends in the company's industry. A person in this position has responsibilities for the company as a whole rather than overseeing certain aspects of it.
Often, a person with this job spends a good deal of time on projects. He may create, implement, and monitor projects intended to analyze a company's progress and improve it. He might also create projects for which others will take the lead and spend time in meetings with the people or teams who will work on the projects.
A wide variety of organizations hire business administrators. Often a small business owner serves as his own business administrator, but larger businesses often hire individuals for this position. An individual with this title may not only find a place in typical for-profit businesses, but also with non-profit companies and organizations run by governments.
AS FEATURED ON:
AS FEATURED ON:

By: Minerva Studio

Business administrator duties include making sure a company has ethical practices and applies effective leadership dynamics.

By: Minerva Studio

Business administrators make sure a company meets its goals.