What does a Banquet Server do? (with pictures)
A banquet server is responsible for preparing the tables and banquet area before guests arrive, effectively serving a number of different dishes and courses to guests during a meal, and clearing the tables and banquet area after the guests depart. Banquets are most often held at hotels, resorts, or private clubs for large events and parties. This means that there may be 100 or more guests to be efficiently and pleasantly served during the course of an event. A server effectively tends to those needs, with duties similar to a restaurant waiter but working in a more team-focused way.
The responsibilities of a banquet server begin before the guests arrive. Prior to the event beginning, servers will prepare the banquet area for the event, which typically involves setting out linens on tables, setting silverware and napkins on the tables, and preparing anything else that may eventually be set at the tables, such as salt, pepper, or bread and rolls. While this individual will not necessarily cook or prepare any of the food, he or she should become familiar with the menu and the dishes being served to better assist guests with questions about the meal.
During the actual event, a server is responsible for the serving of the various dishes and courses. These are typically served beginning with the women at a table, and serving dishes from the left side of a guest. After a dish is finished, the empty plates or bowls should be removed from the right side so that further dishes can come in from the left. Between courses, servers are often responsible for keeping glasses full of water or any other beverages being served. This continues throughout the meal until the final course has been served and finally cleared away from the tables.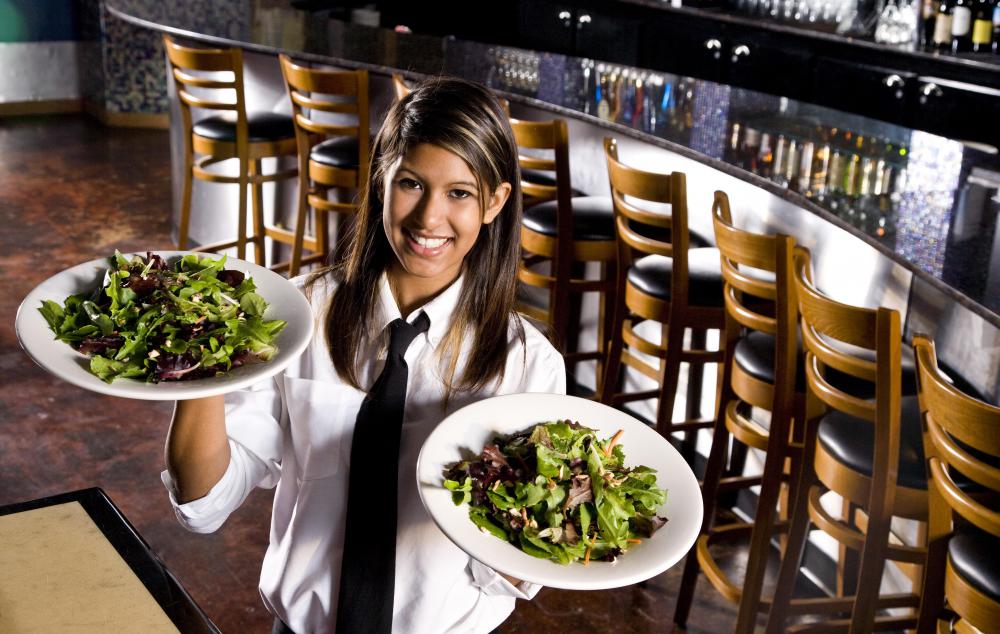 After the guests depart, a banquet server will then work to clear away all dishes or glasses left at the tables. These are brought by the servers to the dishwashing stations for dishwashers to clean. The server is then responsible for clearing away anything else from the tables, such as linens or table decorations to finish the event.
Banquet servers typically need to be able to work together to see an entire event successfully completed and ensure the satisfaction of every guest in the room. They often need excellent customer service skills and the ability to multitask to assist multiple guests at any given time. Some employers will also insist that workers be 21 years of age to be able to serve alcoholic beverages to guests, depending on the local liquor laws.
A banquet server tends to the guests during a meal.

A banquet server works in a team environment.

Servers are responsible for preparing everything needed to set the table, including salt and pepper.

Banquet servers need to be articulate as well as responsive to diners' needs.

Banquet servers work to get food out of a kitchen as fast as possible during service.