What Color Is Ombre Hair?
Ombre hair has a distinctive color pattern that is dark close to the scalp and light further down the hair's length. The dark base typically ranges from medium brown to black. This color is generally solid from the roots to the midsection that is roughly parallel to the middle of the face. Lighter ombre highlights make up the bottom half of the hair color, and these can be shades of light chestnut, auburn, or golden blonde. Ombre hair color is usually done only on long hair that falls below the shoulders in order to completely achieve this unique finished look.
This two-toned hair color pattern is sometimes considered an alternative style originating from the appearance of naturally dark hair that has been colored a lighter shade and then allowed to grow out. Due to noticeable lines of demarcation, many people have this dark outgrowth regularly lighted to match the rest of the hair. Electing to have ombre hair color involves leaving the dark section to grow while blending it into the lighter hair with various highlighting and hair coloring techniques. An advantage of this look is that it requires less upkeep than hair color applied to the entire length of the hair, and some clients even touch up their own ombre color at home after their initial salon color service.
Achieving this kind of graduated hair color often involves adding dimensional color to the lower half of the hair to prevent unnatural-looking contrast. Black outgrowth with an abrupt change to blonde in the middle of the hair length is generally not as flattering as blended ombre highlights. Different hair stylists usually have a favorite color application procedure for ombre hair. Some like to weave in color with foil techniques, while others prefer to use a free-form method called balliage to paint color on individual strands of hair. The exact colors of lighter ombre highlights depends on a client's preferences, natural hair color, and the stylist's recommendations.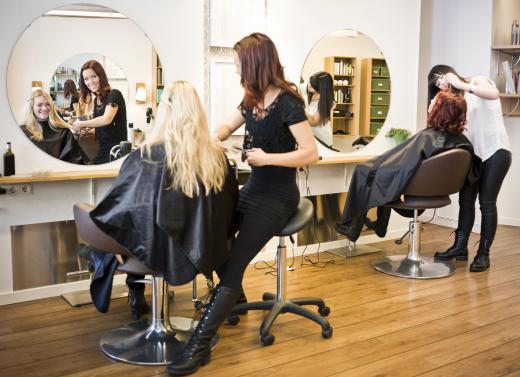 Many people trying the look of dip-dyed hair usually like to have more than one shade added to this hair color pattern. Most hair stylists advise against bleaching strands too light for ombre hair due to the greater chances of damage. Platinum blonde ombre strands can also be more difficult to properly maintain. Recommended alternatives are often deeper golden blonde highlights mixed with pieces of lighter brown. Ombre hair color options with even more dimensionality include pieces of auburn mixed in with the blonde strands.
AS FEATURED ON:
AS FEATURED ON:

By: jb325

Ombre hair is a two-tone coloring pattern.

By: gemenacom

Visiting a professional hair salon is the safest way for a person get ombre hair.

By: Valua Vitaly

For a dramatic ombre effect, bleach should be used to lighten hair.